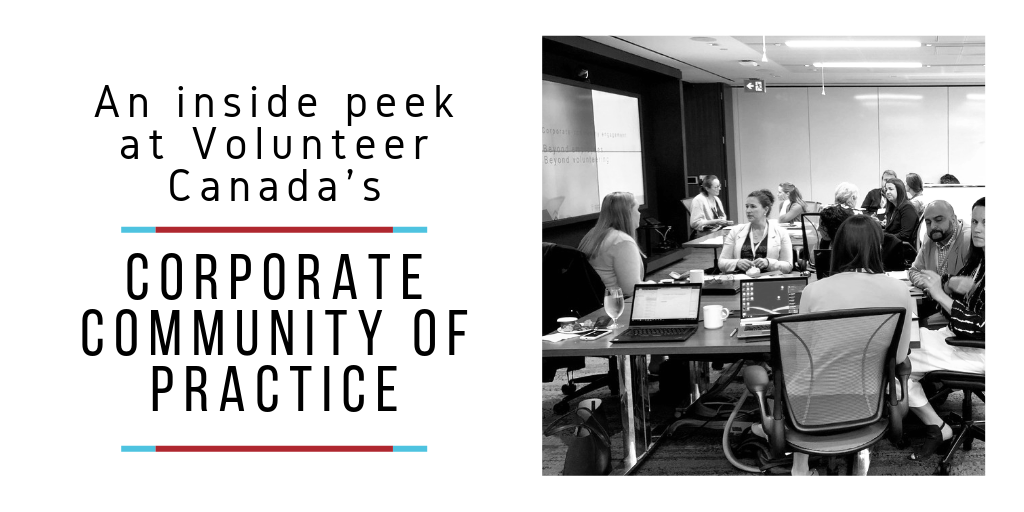 Read Time:
4 Minute, 3 Second
Volunteer Canada held the semi-annual Corporate Council on Volunteering (CCOV) Gathering in Toronto, June 17 and 18 with a focus on "The Future of Corporate Community Engagement". The Council invited non-profits to join them on the first day in a forum so that they could discuss best ways to work together to engage employees in community service, giving and learning. This is the first of two blogs on the event.
Samantha Cherry is the Manager of Sponsorship and Community Engagement for IGM Financial Inc., supporting both IG Wealth Management and Mackenzie Investments.
---
Being a new representative for IGM Financial to this Council, I knew what topics to expect from an agenda perspective but what I didn't realise was how collaborative and in-depth the conversations would be! It was so refreshing – typical CSR conferences I've attended in the past usually have me in sessions for 1 to 2 hours at a time listening to a speaker or panel on repeat for 2 full days. The information is valuable, but I have always found that the best insights and ideas come from just having discussions with others in your field.
What really resonated with me about the CCOV Gathering was "partnerships". I've spent my entire career focused on them – from corporate partnerships for the Canadian Football League to media partnerships for the global non-profit WE. Partnerships, in short, have been at the center of my universe for the last 8 years.
Now as I move into my new position with IGM Financial, I am being immersed into the brand side where I get to evaluate the right community partnerships that will help grow our business and engage our employees. To me this was the underlying theme of the conference because not only is Volunteer Canada an incredible resource for data, insights, trends etc. but they are a true partner in helping each CCOV member company make an impact. One of the ways they are doing this is by bringing together a group of passionate, active company CSR representatives, and others from departments like HR, who genuinely want to make a difference, and giving us the tools to make things happen. There is no better way to describe what a partnership truly means. At the same time, each session throughout the two days touched on strengthening corporate-community partnerships.
Our first group session brought us together with our invited charity partners and asked us to reflect on what's impacting each of our organizations from a social, environmental, and economic perspective, and then discuss ways we can tackle them together. Being a new member to the IG team, I was grateful for the time to do a deep-dive learn from our partner Darlene Norris – Chief Development Officer for the Alzheimer Society of Toronto. She spoke about the aging population, lack of resources, change in government funding, competitive landscape, difficulties in generating awareness etc. and it really helped to guide conversations to ways IG can do more for them, and how we can do it together with our thousands of employees and consultants across the country.
Other key highlights for me included looking at best practices for building internal and external partnerships through thinking "Outside the Box" and the "Building Community" session. The presentation that stood out to me the most was Shell's #FuellingKindness. They found a way to connect their business, their internal stakeholders, employees and clients in such a simple and meaningful way. There might not have been a not-for-profit partner involved but this was an amazing example of how internal partnerships and alignment with your company's mission can truly make waves within the CSR space.
The CCOV Gathering allowed me to connect and have the conversations I've been looking for with other professionals in the community engagement space. Day 1 allowed me to hear insights from experts in the field of corporate community engagement, not-for-profits that receive the benefits from what our companies and employees do and learn how to co-develop strong initiatives that drive results. Day 2 at the corporate-only roundtable gave me the opportunity to have a collective deeper-dive and more of those one-on-one discussions I had been looking for with other companies that are highly active and leading in this space. It was so nice to be surrounded by other professionals passionate about this area and being able to share ideas with each other despite, our own unique business objectives and employee needs. Thanks for this great opportunity! I look forward to contributing to the ongoing success of CCOV.
---
This is the first of two blogs on the event. Read the second here.