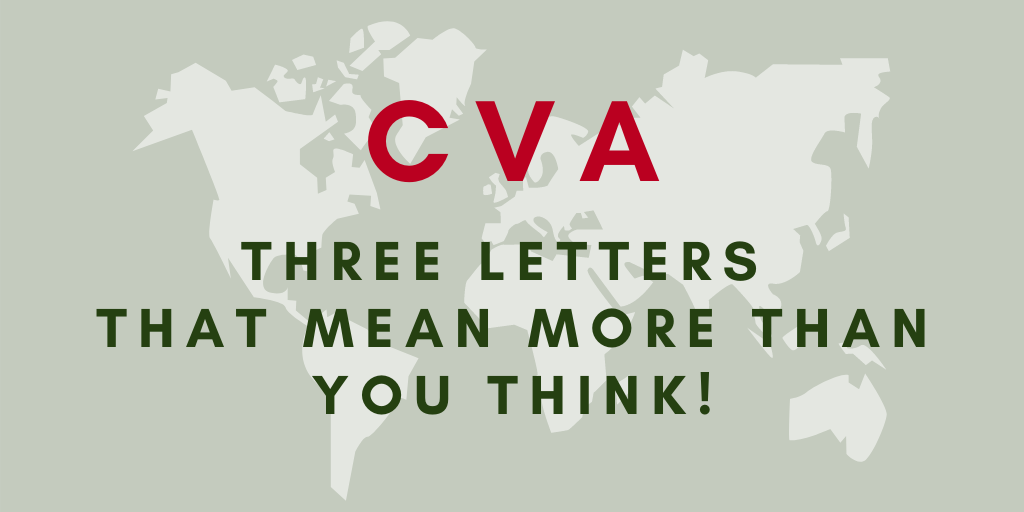 Read Time:
5 Minute, 40 Second
I will be the first to admit we are a culture rampant with acronyms. From LOL to KPI and SEO, there are simply too many. I originally wrote this a week before the pandemic officially began and now we add COVID-19 and PPE to that list and a whole lot of figuring things out to the life of a manager of volunteers.
Many of the codified phrases have great value behind them and signify hard work, best practice and a community of dedicated, caring people. The Certified in Volunteer Administration (CVA) is that kind of acronym! Though you may have to explain it to your family and friends, that does not take away its worth.
Let's rewind. I have engaged volunteers since I was sixteen, professionally since I was twenty-one. I would often be asking people for help with events, fundraisers or weekly engagement in a program. During that time, I was unaware of the professional managers of volunteers that do such great work. I utilized volunteers, strategized their roles, appreciated them and tried to retain them. It was always important to me to engage the community members to provide leadership and help with programs and events, but I remained unaware of the wealth of resources available. In recent years as my job position steered more directly into a full-time volunteer engagement role, it became abundantly clear.
This work with volunteers is a career.
Do you find yourself at this crossroads?
Maybe you are or were in program leadership? Perhaps administration, human resource or something else? Was it necessity or passion that led you into working with volunteers? Regardless, you looked at what was needed, and you made a choice. You stepped into volunteer engagement.
I hope my story can help to guide your journey and decisions in this regard.
Spring 2016, after much discussion on how to stabilize programs and improve the quality experience for children and youth at our organization, Christie Lake Kids in Ottawa, I, together with our program director, proposed that I take on a full-time Volunteer Coordinator position. It was approved, and with that, I was in, I was a volunteer engagement professional. I immediately set my aim to recruitment, screening, training, and deploying volunteers. I did what I coined as the volunteer hustle—prolonged hard work to claw and grab and engage volunteers as much and as fast as possible.
As I began this work, we saw growth, but we also saw trial and error and struggles. It was at this time I reset my aims and did what any newbie to a job does. I googled. With the search bar open, I began typing.
Best practices for Volunteer Management… <Enter>
That was one of the most valuable searches of my life—much more than recent searches with my kids to find the longest word in the English language, which is cool but not overly relevant.
This search set me on a journey to join Ottawa Administrators of Volunteer Resources, as you may have guessed, better known as OAVR. The search also led me to some texts, including the Council for Certification in Volunteer Administration's Professional Practice Book, and from there, I discovered the CVA as an option for professional growth and development. From that day on, I decided to pursue it.
In the months that followed, I connected to the OAVR. It turned out a former colleague was a part of the association. They helped me settle in. I discovered the group had just concluded a CVA study group. Though I did not get to attend, I connected with a few members and learned more. I got some helpful notes and tips, including joining the CVA Facebook Study Group, and I was on my way to being prepared to tackle the CVA certification process.
The text is a little thick but packed with wisdom and knowledge. The arena of leaders in the field, past and present, making their work accessible. This process opened me up to the legendary writings of Susan Ellis, and the innovative future-focused work of Erin Spink, who I have been able to meet and connect with on several occasions. Her introduction chapter in the CCVA text inspired my CVA journey and the development of a full-fledged Volunteer Engagement Program.
In the end, what I found with the CVA was a community. A people of shared experience.
Yes, we all can share how we were a bit nervous about taking a pass/fail test, but much, much more, we have that deep desire to take this practice of Volunteer Management to the next level. We connect on why and how we make this art and science, this caring and shepherding role work. We invest in it. We excel in it. We stand up for the causes we care about, and we gather and ready those who would give their time to these worthy causes.
The day I shared I had attained my CVA publicly, is not a day I will soon forget. On LinkedIn alone, over 50 likes, hearts and applause. Twenty-five comments of congratulations from all over the world.
That was just the start! The connections and support have grown by leaps and bounds. Since attaining my CVA I have joined the OAVR board, led workshops at Volunteer Ottawa, and began writing and interviewing from a volunteer management perspective at Beyond the Bake Sale, where I am connecting with world leaders in the field. Finally, I continue to hone my expertise and invest in the volunteers at Christie Lake Kids that make such a tremendous impact in the lives of children and youth in need here in Ottawa.
Without the community and knowledge that I have gained via the process of attaining my CVA, I am not sure how much of that I would be doing, and I am not sure if I wouldn't have burned out trying to just work harder at the volunteer hustle. To pay it forward from the kind souls that helped me prepare for my CVA please check out the CCVA and their Facebook Group and don't hesistate to reach out sometime and perhaps I will be celebrating you attaining your CVA in the near future!

Now more than ever the voluntary sector needs leadership, the CVA is a stamp of that leadership. I hope you can take the steps to attain yours and join leaders of volunteers at this new level and use it to succeed in the landscape of this new reality.
Adam Janes – Longtime Community Builder, Volunteer Engagement Professional at Christie Lake Kids, writer and podcaster for the volunteer sector at Beyond the Bake Sale, workshop facilitator at Volunteer Ottawa and board member at the Ottawa Administrators of Volunteer Resources.