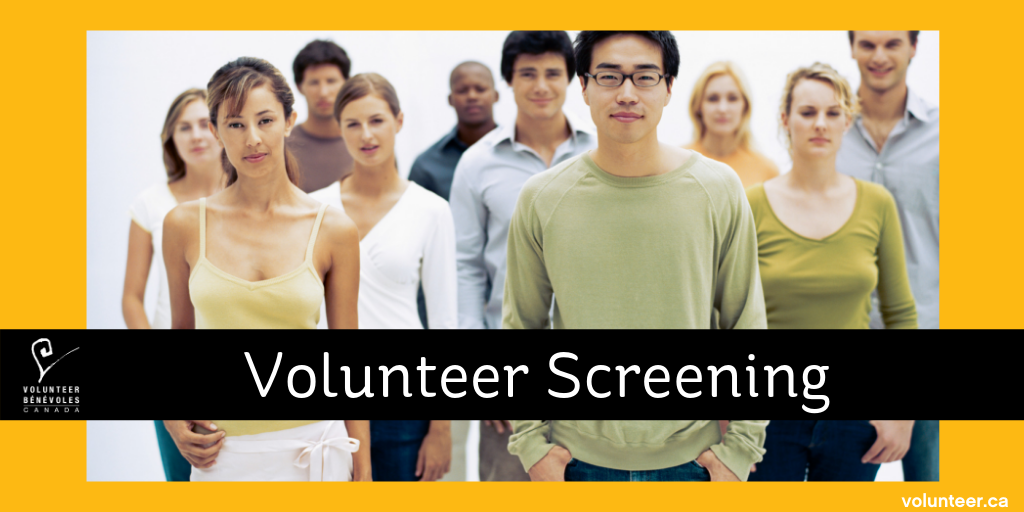 Read Time:
5 Minute, 57 Second
Volunteer Canada & Deloitte Canada
Volunteer Canada has been a leader in volunteer screening since 1995, working with key stakeholders to develop tools and resources and provide training across the country. Volunteer Canada and Deloitte Canada are now working together to explore the legal, practical, and philosophical implications for creating a centralized, integrated, online screening system for people in positions of trust with vulnerable populations. A feasibility study and business plan are being developed for a Canadian Volunteer Screening and Education Centre for Canada.
For more information on the emerging model and work to date, see Streamlining the Screening Process and the diagram below.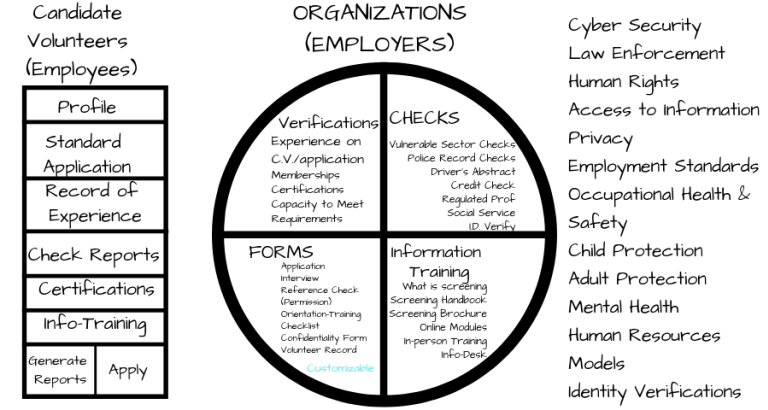 Q: How do you define police record checks?
A: A Police Record Check, known by different names across the country, refer to a request to check what information exists on the police records. Police retain information about a person's contact with police which may include being a suspect, being a witness, being charged with an offence, past convictions and acquittals, dropped charges, a medical issue that required police support/intervention, and having reported a traffic safety concern. However, not all this information is disclosed in Police Record Check reports. This specific information that is shared may depend upon what is relevant to the position the person is applying for and the policies and practices of the local, regional, provincial/territorial law enforcement agency. Part of our proposed Canadian Volunteer Screening and Education Centre will involve working with law enforcement agencies and police services to improve consistency in language. Different jurisdictions will define different information for different levels of police record checks.
Q: Why would a credit checks be included in screening?
A: It would depend upon the risks and qualification identified with specific roles. For example, if a position involves working within a budget, handling funds, or having access to an organization's assets, then a credit check might be appropriate for volunteer screening for that role. Any checks that would be required for a given role should be specific to that particular role.
Q: How will the Canadian Volunteer Screening and Education Centre be funded?
A: At present, no definitive recommendation on a funding model has been made. Options being considered include public funding, user-based revenues, organization-based membership revenues, and other cost recovery options. However, our intention for the proposed Centre is to reduce expenses, time, and resources for organizations, volunteers and police services, so a funding recommendation will be made with that goal in mind.
Q: Is there a timeline for the development of the Canadian Volunteer Screening and Education Center?
A: From the time that the feasibility study and business plan are delivered (March 31, 2019), until all the conditions to open the Centre have been met, we believe an appropriate timeline is 1.5 to 2.5 years. This timeline is based in part on our operational understanding of what would be required for this type of implementation, in terms of cross-jurisdictional collaboration, policy and legislative requirements, privacy and security solutions, stakeholder engagement, and a confirmed funding model.
Q: Is Canadian Volunteer Screening and Education Centre going to offer the same services in both French and English?
A: Yes, we anticipate that all services offered by the Centre will be in both French and English, and the Centre's operations will be designed in a way to as to integrate with both French language and English language stakeholders.
Q: Will you be engaging with schoolboards as stakeholders? The screening process for parents varies.
A: Schoolboards are certainly on the list of stakeholders to be engaged in this process. We know there are a range of stakeholders from different sectors that have unique requirements and requests, and to the best of our ability we will be engaging with that long list of stakeholders. We will be using a variety methods for that engagement, but it will not be possible to have individual interviews with everyone.
Q: Are child and youth services stakeholders going to be engaged in this process?
A: We have been making a concerted effort to engage stakeholders that are involved in child and youth services to understand better understand their points of view and specific screening requirements. However, as screening is wide ranging, we do not want to focus exclusively on screening for individuals working with children and youth Stakeholders involved in services to other vulnerable groups will also be engaged in this process.
Q: How are stakeholders who get interviewed chosen?
A: The list of stakeholders for engagement is continually being developed and refined. Our intention is to interview individuals from a range of sectors, geography, and expertise, including human rights, access to information and privacy, law enforcement, and volunteer resource management.
Q: Are you modeling this Centre around the British Columbia Criminal Records Review Program or other Provincial/Territorial Systems?
A: Part of our process has been to gather information, experience, and key learnings from the systems, legislative environment, and practices in various provinces and territories as well as international models. We will ensure that the proposed Canadian Volunteer Screening and Education Centre is designed to work in harmony and/or to be integrated with existing systems such as the BC Criminal Records Review Program.
Q: Would participation be voluntary or mandatory?
A: We anticipate developing a model that is flexible and provides options for individuals and organizations, however, over time, there may be features that set the standard of care for screening volunteers working with vulnerable populations. This issue will be part of the operating model that will be developed, but at present no recommendation has been made in regard to this issue. That said, the model being developed needs to demonstrate that it will make volunteer screening in Canada safer, faster, more effective, and less expensive, and we will be making recommendations on the operating model based on those goals.
Q: Will the proposed Canadian Volunteer Screening and Education Centre make volunteering more difficult for individuals?
A: No, the proposed Centre is intended to streamline the application process and make it easier and less expensive for individuals to apply and get screened for a volunteer position.
Q: Can someone who has information on their police record still volunteer?
Yes. Organizations identified the risks and qualifications associated with volunteer positions and develop screening policies accordingly. Screening does not preclude someone from volunteering – it provides a system for matching peoples' experiences, skills, and backgrounds to the best position. This means that not all positions or organizations will be suitable for all candidates. Screening aims to protect vulnerable populations while providing people with opportunities in the community.
Q: How will the Centre meet the needs of rural residents?
A: We intend to design the model for the proposed Centre in a way that maximizes efficiencies while being flexible enough to accommodate the needs of individuals and organizations in both urban centers and remote regions. To that end, multiple operational models are being considered, but no recommendation has been made regarding this model as of yet.
Please contact Paula Speevak at [email protected] if you have any questions or comments.