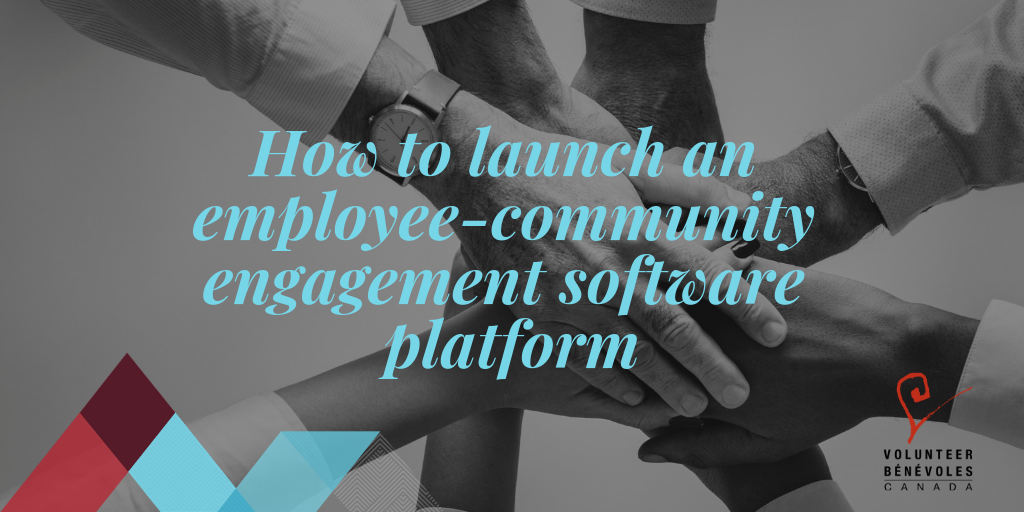 Read Time:
4 Minute, 37 Second
A hot topic in discussions between Volunteer Canada's Corporate Citizenship department and company Community Investment professionals is software platforms for employee giving and volunteering. With many choices in the market including Benevity, Your Cause, Do Some Good and the new Salesforce Philanthropy Cloud, most large companies in Canada are either currently using a platform or considering it.
Companies place their hope in these platforms to free up Community Investment staff time by streamlining administration and motivating employee community action.
Most of these platforms can:
Help employees find volunteer opportunities that suit their skills and interests
Record employee volunteer hours
Offer Dollars for Doers grants to organizations where employees volunteer
Manage employee donations and matching corporate donations
Record the impact of your employee-community engagement program
We wondered what lessons on launching a platform could be gained from those who've been there. We spoke with five companies using employee community engagement software platforms to learn from their experiences.
1. Launch a new vision, not a new platform
A new software platform doesn't inspire engagement.  An exciting new commitment to community and to your employees, rooted in your corporate culture and values does.  The platform needs to be positioned as a means to fulfilling that community engagement vision.  The experience of the companies surveyed indicate some value in tying the platform launch to a new initiative or event for momentum, taking care to focus messaging on the bigger vision, not the single moment. For example, two companies surveyed tied their respective giving and volunteering platform launches to the kickoff of their United Way donation campaigns.  Both then struggled to change employee perception that the platform was only a United Way campaign tool. The platforms also remain mainly associated with giving, not volunteering – a perception both companies are finding difficult to undo. 
2. Get managers on board
Employees take their signals about company values from their managers. Enlist managers to champion the new vision and position them as leaders. Train them on the platform and encourage them to model the behaviours you want to foster in your employees – such as creating a profile on the platform and signing up for a volunteer opportunity or making a donation.
3. Use on and offline channels to build excitement
Like any launch, building excitement across multiple channels is essential for success. The companies we spoke to incorporated teasers, online and digital messaging, videos, testimonials, contests and promotional items to ramp up for the launch. One company handed out t-shirts to all employees, encouraging them to wear the shirts when they volunteer.
4. Incentivize the platform
Come up with a fun and rewarding incentive plan to motivate employees to try out the new platform. A fitting incentive is to fund a donation to the employee's cause of choice when they use the platform. One company offered a time-limited $10 donation for employees to add to their personal donation amount, leading to 30 per cent of employees making a donation within the first two weeks of the platform's launch. Another company offers a $5 donation for employees to give when they use the platform for the first time. A third company launched its platform in 2017 and provided 150 accounts (to match Canada's 150th anniversary) with $50 donations – employees, led by their curiosity, logged on to find out if they had one of the lucky accounts.
5. Schedule enough lead time
The amount of time it takes to set up your platform can vary from six months to two years. It can take a long time to plan and integrate all of the components across departments. You may need to work with management, communications, legal, human resources and IT. A looming deadline can strain relationships and create pressure, so bring all parties together early in the process.
6. Launch the platform with a range of volunteer opportunities
Employees should have a positive first experience with the platform so that they want to return to it. Make sure the platform has a wide range of volunteer opportunities that appeal to different interests and causes. Include opportunities that: can be done alone or with a team; are one-time and for the long-term; are hands-on and skills-based, and; that work for employees who may not be able to leave the workplace, such as call centre employees. Work with local community organizations to make sure the opportunities are mutually beneficial.
7. Allocate staff time for employee platform support
Every company we spoke to underestimated the number of emails and calls they would receive about the platform. A simple tip sheet can help mitigate confusion, but employees will likely still have questions once they start using the platform. Be clear with employees about where they can go for answers and allocate enough support to handle inquiries.
8. Incorporate the platform in your existing employee portal
Make it simple for your employees to use the platform by incorporating it in your existing employee portal. This will help minimize tech support, since employees won't have to keep track of a separate access point. It will also encourage increased use of the platform, as employees will see it every time they access the portal.
The easier you make it for your employees to give to the community, the more likely they are to do it. Streamlining your employee-community engagement program not only encourages participation, it also frees up resources on your corporate citizenship team, letting them focus on increasing the impact your company has on the community.