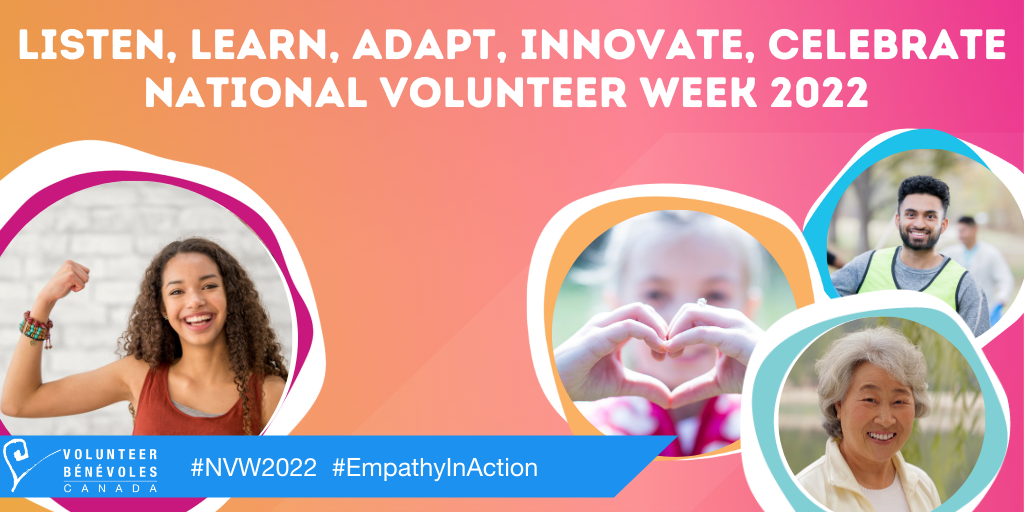 Read Time:
4 Minute, 1 Second
From coast to coast to coast, in formal and informal settings, volunteers create caring, collaborative, and compassionate communities. During National Volunteer Week 2022, we celebrate the contributions of Canada's millions of volunteers: their actions, their understanding, and their genuine concern for the world around them.
This National Volunteer Week we are acknowledging the strong connection between volunteering and empathy – empathy as it motivates us to volunteer, how empathy can be developed as a result of volunteering, and how empathy can be a catalyst for learning, understanding and change.
While COVID-19 restrictions are beginning to lift across the country, there remains a feeling of uncertainty and varying degrees of comfort amongst individuals. So how do we thank and give back to our volunteers, who have given so much to our communities and causes?
Planning a hybrid celebration that allows for some in-person interactions, while social distancing, provides a good balance.
The Petawawa Military Family Resource Centre (PMFRC), in Petawawa, ON found success last year with their "drop-in" model. Prior to the pandemic, they would host a large event with a dinner, entertainment, prizes, etc., but when they had to shift, Volunteer Services Coordinator, Sarah Gunter, found that they were able to use that event budget on personalized gift boxes for their 200 volunteers, and spend more one-on-one time thanking them for their contributions.
"Our volunteers played such a vital role supporting our virtual programming and services, that we didn't want to miss the opportunity to recognize them," says Sarah, "We did the gift pick up outside, during set times to allow for social distancing and this gave me the opportunity to thank each volunteer personally."
PMFRC is thankful for the generous support from Canex, that helps support their volunteer appreciation efforts. Sarah also worked closely with an Ontario company to create gift boxes, designed with different themes, and gave the volunteers the opportunity to choose the one they preferred.
At Volunteer Canada we love to hear these stories of connection and personalized thanks. The PMFRC volunteers were also extremely thankful for the thought and care, exclaiming "I appreciate that the PMFRC put my health and safety first, but also that I have a hand in choosing a beautiful gift," and "I love this idea! I appreciate all the effort you put into designing the gift boxes."
This year, Sarah and her team will use this same model with some cool new items and a virtual component.
"Our amazing marketing department will also be running a social media campaign focused on this year's theme. We decided to incorporate feedback from the volunteers asking them to share something interesting about themselves to showcase that we are all unique but share a common bond through our volunteering efforts and commitment to PMFRC and community – our volunteers all have empathy and big hearts".
Volunteer Halton in Halton Region, Ontario, have also chosen a hybrid celebration. Traditionally they have celebrated NVW with a single breakfast that hosted up to 250 people. This year they are focusing on smaller "Community Celebrations", opting for a modified "drop-in" that can be adapted to a "drive-by" celebration if protocols change again. Securing space in four municipalities, they have asked volunteers to RSVP to manage numbers.
They will also be giving out more awards this year. The Cheers to Volunteers Award provides all nonprofits, charitable, voluntary, and grassroots organizations in Halton an opportunity to recognize the important contributions volunteers make to their organizations. The Halton Volunteer Impact Award is representative of the importance and impact of the roles of volunteers across Halton during 2021. Awards will be celebrated at both the Community Celebrations and across social media.
"Holding Community Celebrations rather than our traditional breakfast and offering our two award programs allows Volunteer Halton to thank our community volunteers in person in as safe a way as possible," shares Heather Johnson, Director, Volunteer Halton, "It also provides organizations with a means to formally recognize their volunteers in a way that will showcase their contributions to the wider community."
We are energized by how our members continue to show their creativity and innovation, as well as care for their volunteers. There are many ways to say thanks and show appreciation.
We know that things are still changing from region to region, and province to province, so find what is right for your organizations, your volunteers, and your community. And maybe consider a hybrid, in-person-virtual celebration this year.
Volunteer Canada has resources to help you celebrate
However you recognize your volunteers, we look forward to seeing and hearing about your celebrations throughout National Volunteer Week. Don't forget to tag @VolunteerCanada in your virtual shout-outs! Thank you for all you do to engage and support volunteers in your community.