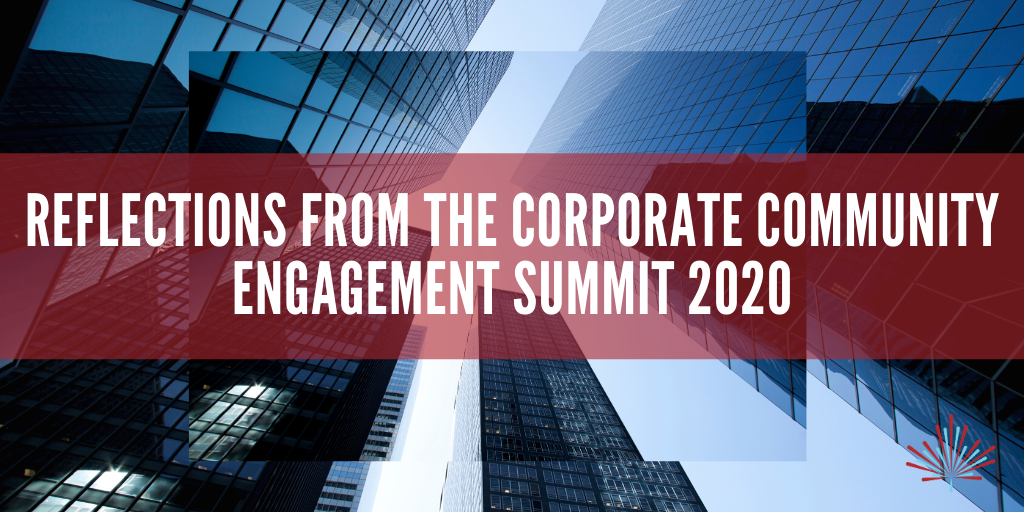 Read Time:
3 Minute, 36 Second
The evolving relationship between Corporate Social Responsibility teams and company stakeholders.
January 27-29 Volunteer Canada convened 30 companies at the Corporate Community Engagement Summit in Surrey. Delegates were corporate professionals managing programs and initiatives for their employees, and other stakeholders, to give back to communities – whether through volunteering, donating, learning or other civic engagement. The summit provided a forum for learning and effective practice exchange among peers and other leading professionals in the field as they challenge the status quo and push for innovative approaches.
Based in Calgary, Megan Marshall is the Senior Community Programs Advisor at Cenovus Energy.
This is my 10th year with the Corporate Community Engagement Council – a national contingent of companies who work collaboratively to deliver strong leadership in corporate citizenship, particularly in employee community engagement. As always, I am leaving the time spent with my peers at the January two-day Summit feeling inspired by the work we are doing on behalf of our companies and the collective impact we are all making in our respective communities.
The context for our conversations has drastically changed in the last decade. Whether it is Larry Fink's letters to the companies in which BlackRock invests or the recent statement by Business Roundtable CEOs, new standards for corporate responsibility are emerging. Seeing that come to light on such a large scale is refreshing for community engagement practitioners, and yet with so many changes, there's always more to do!
There were many themes that wove themselves throughout the Summit – within the panelists' remarks, the breakout sessions and the keynote address. These are the three that will stick with me the most: impact, inclusivity and integration.
Impact:
The Summit kicked off with an update on the latest research from the Volunteer Canada report The Business Case for Giving Back and the 2020 Edelman Trust Barometer. More and more, we are seeing the extent to which corporate community investment and engagement programs matter to employees. The relationship between their workplace engagement and their employer's commitments to community is profound.
Over one-third of volunteering done in Canada is done via employees through their employer's support. Understanding this research was a needed reminder around the role corporate community engagement professionals play in catalyzing our employees and other stakeholders for both internal and external benefit. What potential!
Inclusivity:
Employee input continues to be critical for programs designed for employees. There is no singular way to create a successful community engagement program but companies at every stage of program development should be considering how to make their programs more diverse and inclusive. Some ideas include providing regular opportunities to give feedback, removing barriers to entry, making it easier to get involved, and providing a broad range of offerings that appeal to many types of interests, motivations and availabilities. Sometimes our stakeholder's greatest needs are outside of our strategic focus areas, but we must balance being responsive with our goals to have broader reach and greater opportunities for impact.
Integration:
I love seeing that community investment and corporate social responsibility teams are becoming more collaborative. Practitioners are working hard to incorporate their work with all aspects of their businesses. We're collaborating with business units, we're more aware of business needs and our strategies better reflect and align with our company's goals. We are actively trying to figure out the best use of our people and our assets to create shared value.
The summit keynote from Derrick Feldmann speaking on the Corporate Social Mind further illustrated this point: companies use their intellectual, social, and financial "capital" to drive ideas that advance societal progress. For companies to lead social change from the inside out, Feldmann suggests they need to also adopt the traits listed below:
Listen before acting: Companies need listen to society before driving innovation and implementation
Lead social collectives: Companies should lead social collectives – a network of companies that share a common purpose and outcomes for a social issue
Innovate for social good: All innovations should address both a business and a social need
Decide with society in mind: Leadership has an obligation to put societal benefit on the table in all its decisions, all the time
Thank you to Volunteer Canada for the opportunity to participate! It was an excellent event.