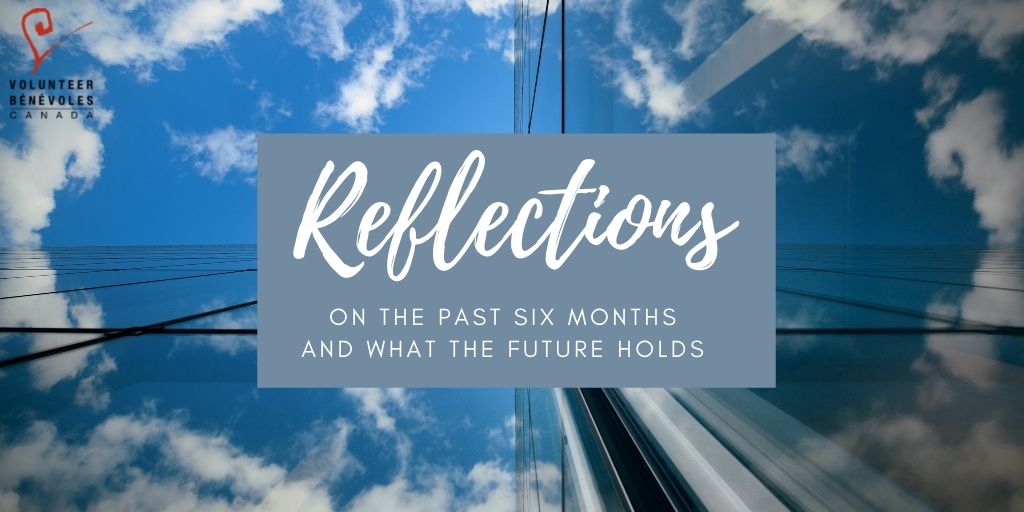 Read Time:
6 Minute, 40 Second
On September 14, 2020, Volunteer Canada hosted its 43rd annual general meeting (AGM) and 1st virtual AGM. Paula Speevak, President and CEO of Volunteer Canada shared her thoughts on the past 6 months and what the future holds for Volunteer Canada. Below is an excerpt of her remarks, adapted for the Volunteer Vibe blog.
How great it is to stand together to review the year that ended in March 2020 and to pause to reflect on the intensity of the last six months; a pandemic was declared, social injustice and racism was illuminated, a student service program went awry.
Volunteer engagement, within the context of a public health crisis, raised many questions as organizations assessed the evolving risks and needs in our communities. Volunteer Canada recognizes the rapid response by the Government of Canada to provide financial relief to individuals, employers, students, and non-profit organizations serving vulnerable populations.
My heroes in this story are the 200 local volunteer centres that provided exceptional leadership in communities throughout Canada. I have been in awe of the volunteer management professionals in organizations of all sizes for their incredible capacity to adapt and lead quickly and compassionately. I want to salute business leaders for their immediate and generous response to all that has unfolded over the spring, working with community partners to provide essential services and equipment where it was needed most.
Amidst cancellations and postponements of activities and events, modifications of in-person services, we have seen the emergence of virtual gatherings, virtual support services, and online communities. This transition surfaced issues of cyber security, privacy, and access to and comfort with technology. We worked on these together.
For many volunteers, volunteering has provided an important connection to the community and has contributed to a sense of purpose. Staying away has been difficult, especially for those living alone. Many organizations have been reaching out to volunteers to check-in and pay attention to the risks of social isolation.
With the support of Canada Life, CIBC, Coast Capital Savings, SAP, First West Credit Union and Employment and Social Development Canada, Volunteer Canada was able to bring together local volunteer centres, corporate community engagement professionals, and non-profit organizations from around the country to identify common issues and to see how we could help each other through these dynamic times. In our discussions, key themes have emerged:
How do we ensure the safety of volunteers while supporting vulnerable people?
How can we transition to more virtual volunteer roles?
How can we keep volunteers engaged while programs and services are suspended?
How can we celebrate National Volunteer Week during stay at home directives?
In August, the Corporate Community Engagement Council held its first virtual gathering, exploring all aspects the role of corporate community engagement in recovery and community resilience. Business leaders spoke openly about their challenges and innovation in supporting employees to give to communities in new ways.
The horrific death of George Floyd on May 25th, and the thousands of others that came before and after him, has ignited the organic global movement to address systemic racism and social injustice. At Volunteer Canada, we are exploring ways to better equip ourselves to take action that is respectful, meaningful, and impactful.
Many organizations in the non-profit and charitable sector have organizational values such as inclusion, diversity, and equity. What do these words actually mean in the midst of our global re-awakening about social injustice and racism? Volunteer Canada's ultimate goal is to enhance the participation, quality, and diversity of volunteering. What does that mean within our current context?
Last fall, Volunteer Canada, in collaboration with Canada Life, embarked on an exploration of the role volunteering plays in building inclusive, diverse, and equitable communities. A long-standing issue in our sector has been the lack of diversity among employees, volunteers, and those serving on boards. The Special Senate Committee on the Charitable Sector highlighted this issue in recommendation eight of their report. How would addressing the issues related to diversity, inclusion and equity contribute to addressing social injustice and systemic racism within the sector? We won't know until we start.
During our regular calls with stakeholders to support each other's pandemic response, we also gathered reactions and concerns about the announcement of the Canada Student Service Grant program.
In raising the concerns, we were hearing from stakeholders and in examining our own values related to voluntary action, we respected the decisions of each organization and volunteer centre to determine their own positions. We have joined our colleagues in the sector to reflect on some of the key learnings and the potential impact of the related stories that have unfolded over the summer.
Looking Ahead
The Accord between the Government of Canada and the Voluntary Sector, signed in 2001, outlined the complementary roles played by government and the sector in the quality of life of individuals and the resilience of communities. The Accord articulated shared values and principles for collaboration and mutual accountability. We will be working with others to promote the idea of bringing the Accord back to life and perhaps marking a renewed relationship with a re-signing of the Accord at the 20-year anniversary in December 2021.
Volunteer Canada will be working with other leadership organizations on a discussion paper exploring the relationship between labour and volunteering. We will continue and expand our work on the role of volunteering in improving equity, diversity, and inclusion. We are picking up on our work to promote the establishment of a Screening and Education Centre. We will continue to explore how to embrace and support informal volunteering and organic movements, which have really thrived in the past 6 months.
The Report of the Special Senate Committee on the Charitable Sector had several recommendations directly related to volunteering, including the development of a national voluntary action strategy in Canada. Together with volunteer centres and provincial and territorial organizations, we will be reaching out to our government counterparts and sector leadership organizations to get started.
I would like to end with gratitude.
I am enormously grateful to our amazing staff team that has been resilient, flexible, and supportive of one another during the past six months. The excellent work done to help organizations respond to the pandemic, to bring volunteer centres more closely together, to convene corporate council members, and to create a more meaningful relationship with our general members has enriched us all.
This was all done while our team was working remotely, managed an office move, responded to a politicized student service program, and worried about our own sustainability. This has not been easy. Though stressful and intense, we all felt an enhanced sense of purpose.
The support and collaboration of our government colleagues in Statistics Canada and Employment and Social Development Canada has been very much appreciated. We have also very much appreciated the work of CRA and our colleagues on the Advisory Committee of the Charitable Sector.
I am also grateful to all members of the board who have reached out and extended themselves to help during this time. I know that leading during unpredictable dynamics was certainly challenging, when you had your own work and family lives disrupted. I could not have managed through this difficult time without the constant support, wisdom, encouragement, and practical advice from Jane, our board chair.
Finally, I am grateful to all of you who have been with us on this journey, zoomed your hearts out to share with one another, produced amazing tools and resources, presented on webinars, completed surveys, written guest blogs, provided financial advice or financial support, volunteered, stayed back from volunteering to keep everyone safe.
We look forward to working with all of you in the years to come to enhance the participation, quality, and diversity of volunteering to build strong and connected communities.
Thank you.