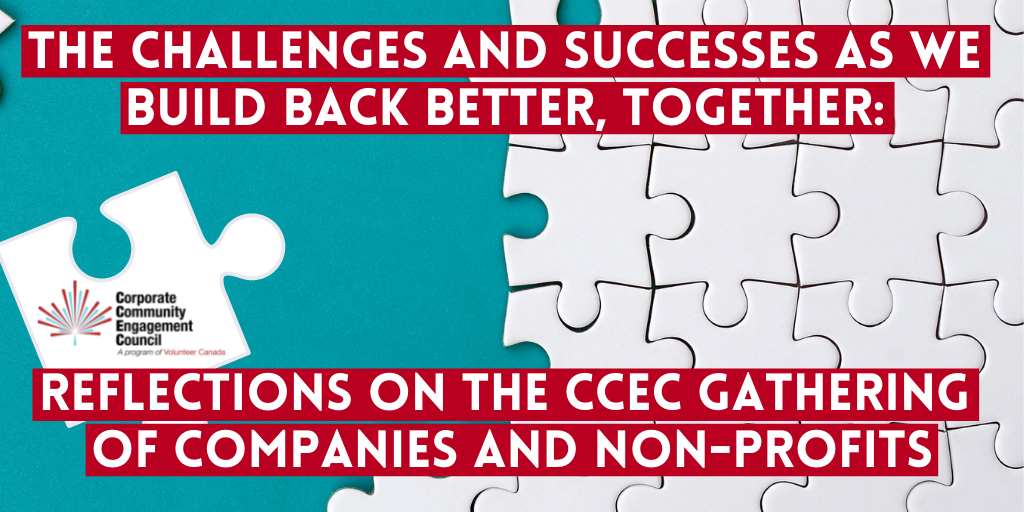 Read Time:
8 Minute, 5 Second
This June, Volunteer Canada hosted their semi-annual Corporate Community Engagement Council (CCEC) Gathering, bringing together over 100 delegates from the 21 member companies of the Council and their invited non-profit community partners.
2021 has been a year like no other. As the COVID-19 pandemic progresses, we continue to be presented with unprecedented challenges for both companies and charities. In addition, the social unrest and tragic events of the previous 12 months has exposed the deep systemic inequities embedded in our culture and history, triggering serious reflection and spurring action.
Corporate community engagement teams at businesses responded by re-thinking their approach, finding creative solutions and revisiting their success metrics. Engaging employees meant finding opportunities for those working virtually/remotely and in-person, many of whom were dealing with their own personal and professional pressures. This required new tactics to both authentically motivate employees and support non-profit partners. Meanwhile, many non-profits were struggling with significant decreases in funding, while some saw huge surges in need for their programs and services.
The CCEC Gathering theme "Building Back Better, Together" offered a series of insightful conversations about what we learned over the course of the last 16 months and how we can continue to deepen our relationships and authentically support our communities. The informal format of the Gathering provided the space for corporate and non-profit delegates to speak candidly about the roadblocks they faced, the successes they achieved, and opportunities to work better together.
Challenging the status quo and speaking truth to power, the Gathering started with a provocative keynote address by Vu Le from Non-profit AF. Vu boldly confronted conventional paradigms and inequity in the philanthropic community.
Overhead, Bizplaining and Sustainability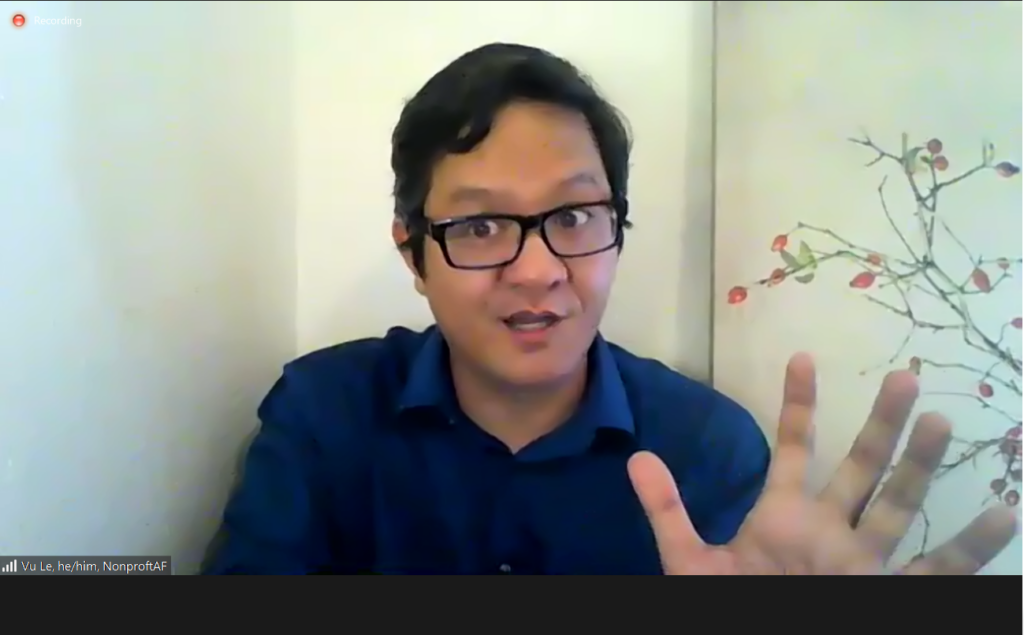 Vu called out the power inequity between corporate community programs, foundations and non-profits and how it actively impairs non-profits from doing their work. For example, restricted corporate donations are preventing non-profits from developing the organizational infrastructure they need. He used the analogy of fire fighters putting out a four-alarm fire, with funders checking every 5 minutes on the water-to-hose ratio to ensure they are only paying for the water (and not the hose).
Vu suggests that such tactics are time consuming and new success metrics need to be found that better reflect and support the mission of non-profit partners. The solutions? Non-profits can help communicate to their funders how restrictive these guidelines are, and proactively provide solutions that could better serve their mandate. For companies, removing questions about overhead can offer the flexibility non-profits need to best manage their funds.
Bizplaining is the time-wasting exercise of explaining to non-profits how to run their organization. Vu explained that non-profit professionals know how to successfully run their organizations, but the fundamental difference is the more successful non-profits are, the more money they need – vs. profit driven corporate success. This difference is often misunderstood by corporate partners if they are focused on bottom line fiscal return. This exposes an unfortunate lack of trust from some funders, who don't appear to believe that non-profits know how to best deliver on their mission. Again, through deeper partnerships, transparency and honest two-way conversations, non-profits can help companies develop a nuanced understanding of non-profit governance and operations, opening the door to innovative ways to work together.
Grant applications notoriously ask how non-profits are going to sustain their programs after the funding ends. This sustainability question is almost impossible to truthfully answer, leading most grant writers to simply make up an answer that they know corporate community professionals just want to hear. Vu invites non-profit organizations to speak openly with their funders to ask if particular sections can be copied from previous years and to provide candid feedback with suggestions for questions that can better speak to program risk management.
Vu asks companies, non-profits and foundations to examine their strategies and processes to determine how they authentically want to be change makers as they build back better. His suggestions include:
Streamline grants. Lead with trust and allow for organizations to submit their grants in flexible, repeatable formats. Objectively review applications to set non-profits and foundations up for success.

Take a stand against injustice and get into action. It's not time to be nice and moderate. Are we unconsciously fighting with our own self-interests if we do not rock the boat and face the consequences at a time when the world desperately needs the boat rocked?

Earmark funds to go to BIPOC and disabled-led organizations. Underfunded groups may not have the best grant writers, but the field needs to be leveled.

Consider what non-profits really need, vs. what companies want through their corporate community programs. True success comes when these goals are aligned.
Pivoting
The word of the year for 2021 is the same as the one for 2020: pivot. Throughout the conversations, presenters shared examples of how they responded to changing needs, pivoted their programs and strategies, and determined what tactics they are going to take into the future to better serve their stakeholders.
One prevailing theme in the session "Changing the world through community learning activities for employees" was to be flexible to meet employees and non-profit partners where they are. Of course, virtual interactions continue to play an important role, but there should be a variety of options on how and when employees can engage. For instance, record virtual lunch and learns so they can be watched when convenient, write blogs and moderate forums to inform and inspire deeper discussions on community issues and actions to take, or promote in-person meetings to watch videos together as a group. Email out summaries of sessions with suggestions on how to get further involved, including easy to perform actions such as doing an online quiz, sharing messaging on social media, links for further reading or fun fundraising ideas.
Arising during the friendly "Is it time for the end of Corporate Group Volunteering?" debate, was the challenge to support eager millennial and Generation Z employees who want to volunteer or donate and are not sure how. As we build back better together, finding hybrid virtual/in person opportunities to authentically support all employees to engage with non-profits will become essential to success. Group volunteering can often be the entry point for these individuals to become life-long volunteers and donors. The bottom line? Whether in business or non-profit, professionals who engage people in contributing to the common good must offer a variety of creative ways to get involved.
What Success Looks Like
Presenters and delegates shared many stories of successes out of the challenges of the past year. The pivots demanded fast experimentation, generating some significant positive impact.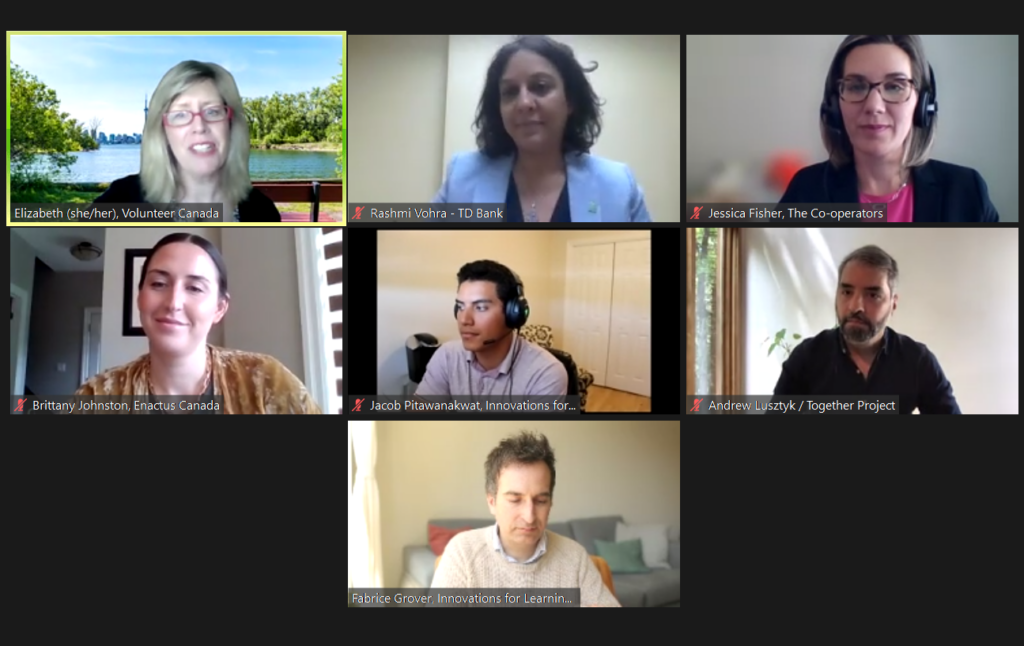 The virtual world we found ourselves in allowed for unprecedented inclusivity, breaking down geographic boundaries. For businesses, gone was a focus on participating in local employee groups built around the office space. Instead, there were opportunities for teams to come together nationally in a fresh new scope. Some fundraising initiatives expanded, bonding employees together throughout the country with unified goals. Senior leaders, who previously only interacted with smaller circles, now could talk to everyone, creating impactful champions for change.
Peer to peer fundraising flourished, with both non-profits and companies providing options for their supporters to participate in novel ways. The Neighbourhood Group, a Toronto non-profit providing a wide range of community services, created The Neighbourhood Group Challenge, a flexible peer to peer fundraiser inviting supporters to challenge themselves in a variety of ways that suited their unique situation. Participants walked, ran, biked, did yoga, played sports – anything that moved them to support senior's programs and services. Fundraisers received their own fundraising page and were provided all the tools they needed to activate their network to support them. A $50K matching gift drove fundraising, helping them surpass their $100K goal!
Many partnerships deepened as companies and non-profits joined together to respond to changing community needs. These conversations deepened trust, opening up to new ideas as partners aligned in responding to the crisis. They committed to shared accountability, taking on the combined risk of new initiatives. Through the contribution of different resources, each partner was also able to bring what was needed to the table to support their programs. By thinking big picture and being responsive to the needs of their communities, impactful new programs were launched, providing much needed services and rewarding experiences.
For example, as long-term partners focused on projects supporting better mental health for youth, Enactus Canada and the Co-operators quickly identified the need for increased services for youth struggling under the pressures and stress of the pandemic. Traditionally, Enactus Canada would have low stress zones set up at events, staffed by employees of the Co-operators, providing healthy snacks, exercise stations and relaxation workshops. Pivoting quickly to virtual, they recognized the need for better mental health expertise neither organization possessed and teamed up with the Mental Health Commission of Canada to provide their student network with access to mental health training, learning opportunities and certifications. Trust and shared risk associated with experimentation and quick turnaround time, were key ingredients in this partnership success.
The past 16 months has been unprecedented. The conversations throughout the two days of the CCEC Gathering illustrated the powerful impact that multi-sector partnerships can generate when faced with some of the greatest challenges of our time. As we look forward, we can take the meaningful lessons learned to build back better, armed with the knowledge that through collaboration, trust and experimentation we can collectively face a brighter future.