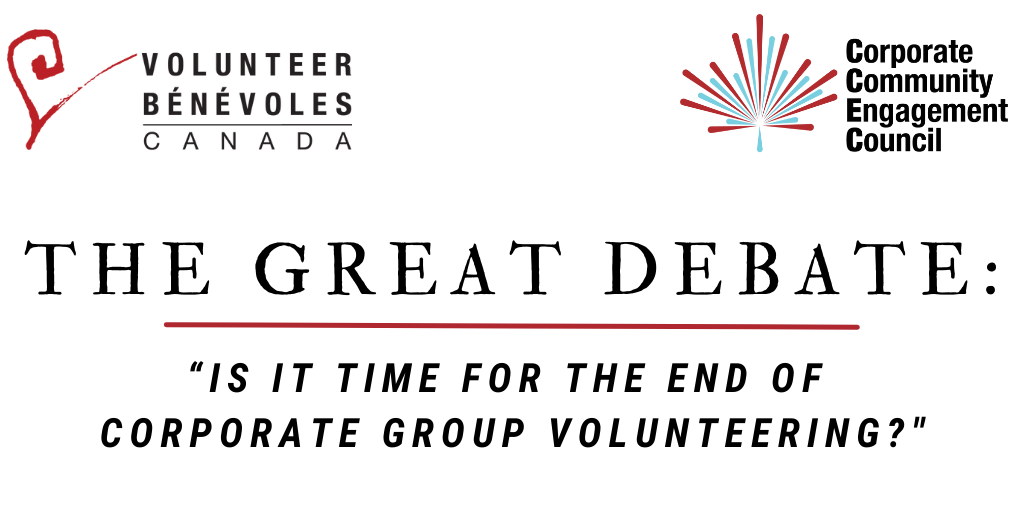 Read Time:
5 Minute, 21 Second
Group volunteering is a central feature of most employer-supported volunteering programs, especially pre-pandemic. Groups of 5, 10, 50, sometimes 100 or more employees are deployed in-person, usually for a day or part of a day, to address a need defined by a community organization. Popular activities include outdoor planting, gardening, painting, clean-up; sorting and organizing food or clothing; mentoring youth or newcomers; or being crew at a big community event. While some of these activities – particularly outdoor and virtual – continue during the pandemic, the needs of community organizations have changed, and health & safety concerns and regulations are restrictive and fluctuating. This has made many traditional corporate group volunteering activities prohibitive.
There is a sense of being between things; "the before times" and what comes next. During the June Gathering of Volunteer Canada's Corporate Community Engagement Council (CCEC), companies and community organizations came together to explore the question "Is it time for the end of Corporate Group Volunteering"? In true debate fashion, each side had equal corporate and non-profit representation, prepared diligently, and provided the odd humorous quip. With their hard work and unique perspectives, the results were illuminating and provided a path forward towards mutually beneficial, transformative, and impactful volunteer programs.
Group volunteering events help raise awareness about community issues, build effective employee teams and develop long-term volunteers.
For: COVID-19 has changed non-profits and the need to connect in-person is more invaluable than ever before. Group volunteering events provide the opportunity for non-profit organizations to teach employees about community issues, their mission, and as a result, can cultivate life-long ambassadors for change. Group volunteering helps raise awareness, amplify voices, build highly effective employee teams, and can develop long-term volunteers.
Against: There are key questions that need to be considered. Are these identified issues and needs defined by the community themselves? Does group volunteering build the capacity of the non-profit organization? Do smaller non-profit organizations have the capacity or feel empowered to say no to group volunteering events? What potential power dynamics are at play? There is no substantial evidence to support that these events lead to long-term volunteer commitments. It is time to reimagine and reframe for the future, saying goodbye to one-offs and hello to long-term commitments that make a true sustained impact.
Group volunteering can lead to deeper collaborations between companies and non-profit organizations.
For: Private sector research shows that employees want and expect their CEO and company to tackle social issues. The work done in group volunteering is thus both of necessity to meet these expectations and contributes to capacity building for non-profit partners through boots on the ground activities and skilled volunteer projects.
Why is deeper collaboration so vital? Imagine Canada reports a significant number of charities are seeing an increased demand for their services and must meet this need with fewer staff (31% less than pre-pandemic), volunteers (60% reported a decline at some point during the pandemic), and hours contributed (58% reduction). Volunteer Canada's survey, The Volunteering Lens of Covid-19 also supports these findings. Group volunteering is the conduit for deeper collaboration and is essential to helping these organizations build back better.
Against: Contrary to popular belief, group volunteering can present challenges, the strain on resources, financial burdens, and inequitable power dynamics between companies and non-profit organizations. Having large groups of volunteers for one-time events only focuses on maximum impact for the company's community engagement strategy. The Harvard Business Review states that for many companies group volunteering is a numbers game with the primary focus being on internal metrics and despite good intentions, the needs of the non-profit are secondary.
Volunteer Toronto has reported that Volunteer Managers have difficulty finding the time to invest in group volunteering projects. Making the time to also cultivate long-term relationships and deeper collaboration with companies is an additional burden. Deepening collaboration takes time, resources, and a shared vision.
Group volunteering equally benefits non-profit organizations, corporate community engagement programs, and communities.
For: Group volunteering can be equally beneficial for all stakeholders as it provides the unique opportunity for corporations to collaborate with non-profit organizations to redefine and invest in social impact solutions. Corporations provide the expertise needed to deliver on projects that are critical to organizational sustainability.
Against: There is no denying that priorities are not always aligned, nor is accountability equal in delivering social change. A corporate group can walk away from a one-day volunteering event or a short-term awareness campaign, for the non-profit, there are another 364 days of delivery. The benefits are innately unequal.
Companies and community organizations work together to create the best possible outcomes for all involved.
For: Collaboratively, through activities like kit building, mentoring, serving meals, stocking food banks, taking care of shelter animals, cleaning up parks, and planting trees, organizations can build their capacity with the support of volunteers. For companies, these engagements provide the opportunity to cultivate positive returns through increased human resources and additional funding, thus a great outcome for both.
Against: Inherently, there is not an equitable playing field due to the imbalance of power. Saying no to group volunteering activities that are outside of the capacity of the non-profit organization may cause fractures in the relationship. A new model where the needs of the non-profit organization are met first, above the company's community engagement programs goals, needs to be established for the best possible outcome.
A new way forward.
There is something everyone can agree on- a new model that functions differently, more honestly, and creatively. Where volunteering, learning, and engagement tackle core issues and open and balanced relationships are fostered to ensure a positive outcome for all parties involved.
We are in a time of change, and there lies a great opportunity for companies and non-profit organizations to come together to create new opportunities for meaningful impact through deeper collaboration and ongoing partnerships. Group volunteering is just one piece of the puzzle and can provide an excellent entry point for first-time volunteers, foster teamwork, and be the catalyst that raises awareness around community issues for employees. Through innovative co-creation, with a focus on structural change and long-term impact, sustainable volunteer-led solutions are possible!