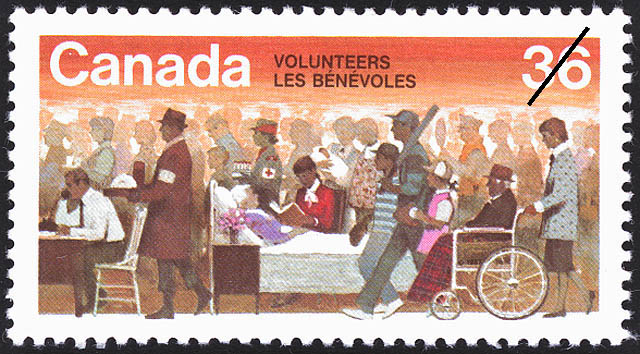 Read Time:
2 Minute, 59 Second
Volunteer Canada may be 41 years old but the history of National Volunteer Week stretches back much further than that. In fact, the first ever National Volunteer Week in Canada was celebrated 75 years ago, in 1943! Clearly, Canadians have seen the value volunteers bring to our country for a long time.
The way we celebrate has changed a little through the years. That first National Volunteer took place in September, rather than April, from the 12thto the 20thin 1943. And it had a very specific purpose: to enlist women for wartime voluntary service. Designated by the Canadian War Services department and organized by the Women's Voluntary Services (W.V.S.), major cities across the country such as Montreal, Toronto, Vancouver, and Winnipeg hosted recruitments and special events to raise awareness about the vital contributions women were making to the war effort.
Fast forward nearly 20 years and volunteer centres across Canada had the idea of having an annual week honouring all Canadian volunteers in all sectors of service. Throughout the 1970s and 1980s, Volunteer Week grew. In 1987, the Canada Post Corporation even issued a commemorative volunteer stamp to recognize the week! Finally, in 1990, Volunteer Canada proclaimed National Volunteer Week to be in April, in all communities across the country.
Since then, National Volunteer Week has become a time for all Canadians to intentionally recognize the contributions volunteers make to their communities, to raise awareness of the value this adds and to thank volunteers for all of their time, energy, commitment and care. Volunteers are an invaluable resource in Canada and without them, many organizations would not be able to serve their communities the way they do. And on top of that, volunteers create a culture in Canada where people care about their neighbours and want to set aside time to build community. This is something so important and worthy of celebrating!
Now that National Volunteer Week is an established event, volunteer centres, non-profit organizations, informal service groups, employers who support volunteering, school groups and more, recognize NVW by having events to thank their volunteers. Each year Volunteer Canada releases a theme and resources to help people plan their celebrations. And celebrate people do! From photo contests and big volunteer galas, to simple thank you cards and appreciation barbeques, everyone celebrates the week a little bit differently – the important thing is that volunteers are honoured and thanked!
For the last 16 years, Investors Group has collaborated with Volunteer Canada, as lead sponsor of National Volunteer Week. Their collaboration and leadership has expanded beyond the campaign and has included research on how volunteers want to be recognised and the development of strategies for year-round volunteer recognition. As part of their corporate social responsibility strategy, Investors Group has led the charge in recognizing how important it is for Canadians to volunteer.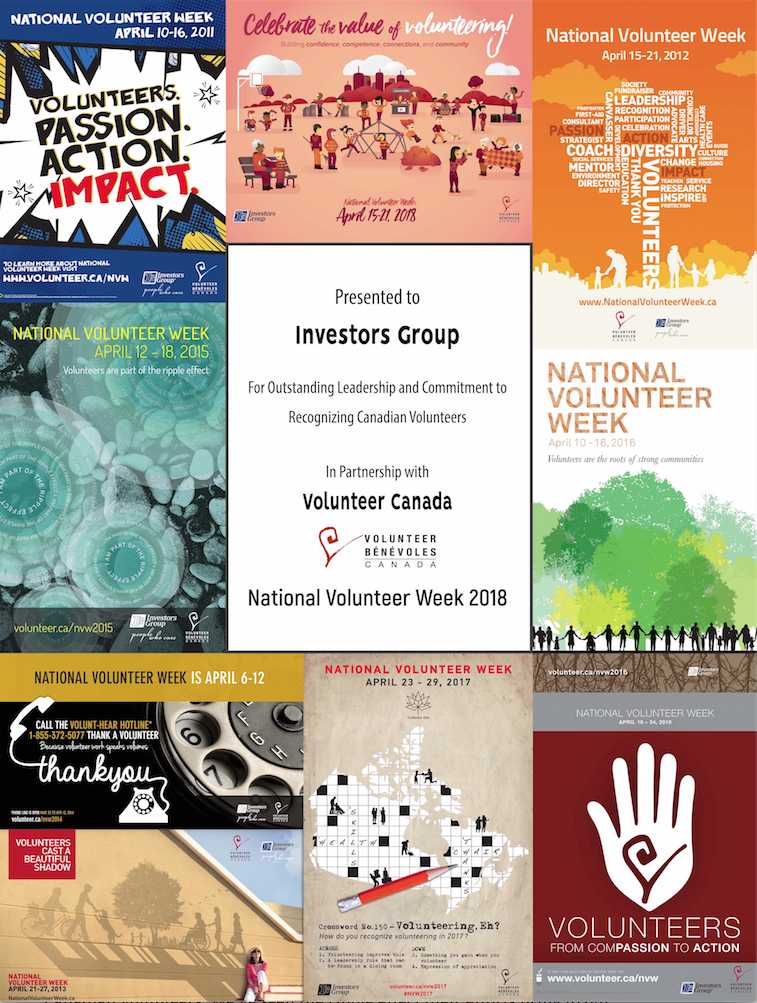 Over the years, we have recognized the passion, actionand impact of Canadian volunteers. We've seen the ripple effect their efforts bring to our communities, the volumes they speak through their service, the beautiful shadows they create by being present where they are needed the most, their steadfastness as the roots of neighbourhoods across the country and now we celebrate the value that volunteers bring through their building of confidence, competence, connections and community. National Volunteer Week is a time to recognize everything volunteers bring to Canada and most importantly, to say thank you. We are so excited that a 75-year-old tradition has continued to flourish in 2018 and we are hopeful it will continue to long into the future.