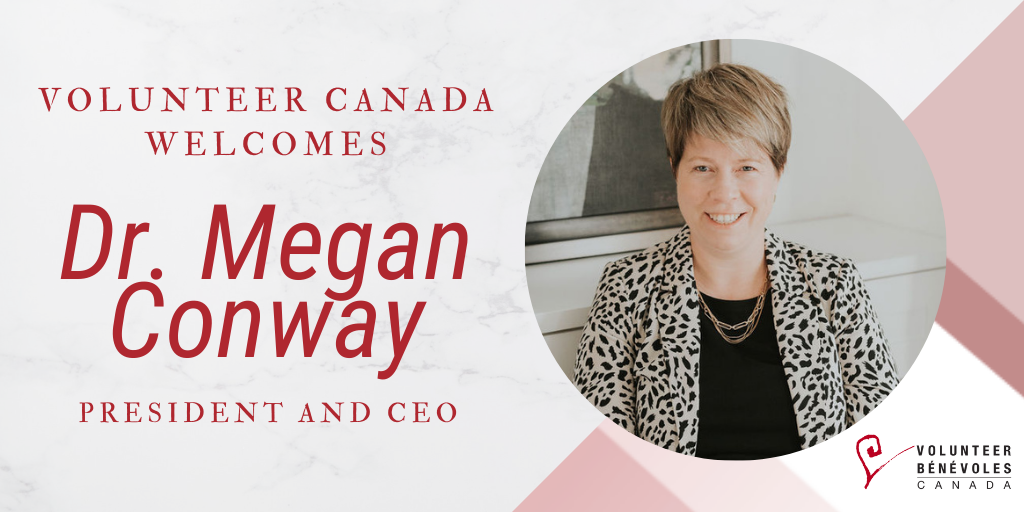 Read Time:
3 Minute, 36 Second
Volunteer Canada is excited to welcome Dr. Megan Conway into the role of President and CEO.
As the country begins to look forward to rebuilding beyond COVID-19, Volunteer Canada believes it has a pivotal role to play in supporting and mobilizing a healthy and strong non-profit and charitable sector that will enable strong and more connected communities. Megan has a strong track record of building organizations and teams in the social purpose and academic sectors. She is skilled at generating impact and in building community-focused initiatives that resonate with diverse stakeholders.
Get to know more about Megan, in her own words:
"As I step into the role of President and CEO of Volunteer Canada, I feel a sense of gratitude and excitement for the opportunity to lead Volunteer Canada, the national organization that strengthens and promotes volunteerism across Canada. As the new leader of the organization, I'm excited to share a bit about myself and hope to connect with and meet many of you in the coming weeks and months.
More acutely, I am profoundly aware of the privilege that comes with such a position of leadership. I'm mindful that as a new leader to a national organization of this nature, I carry considerable personal and professional privilege. Too frequently, we introduce ourselves by our credentials, our accomplishments, and our professional track-record. And while there is much that I have done professionally that I feel deeply proud of, I also believe there is power in introductions that move beyond the performative to a more personal connection. I believe that as a leader in the non-profit and charitable sector, part of the opportunity that exists for all of us, is to work collectively to deconstruct some of the hierarchical and traditional systems and ways of knowing and being. These systems that have formalized who holds and who accesses power, and how it is used within charities, non-profits, and within our communities.
I believe that for us to connect in the ways that matter and to work together in a spirit of reciprocity, caring and connection, there is an opportunity in sharing more of who we are rather than what it is we've done.
So, who am I?
I am a white settler who grew up in rural Ontario, near Ottawa. I've lived in many places in Canada and now call the Ottawa Valley home. I am a mother of two children, a partner, a daughter, a sister, and a friend. I care deeply about places—about the communities, neighborhoods, and geographies across Canada. I've spent considerable time researching and studying how where we live impacts our life outcomes and how the non-profit and charitable sector has an important role to play in mitigating or mobilizing place-based change. I also care deeply about building strong and resilient networks, systems and initiatives that foster social justice, connection, and equity.
Over thirty years ago, I got hooked on the power of volunteering and haven't looked back—I started my elementary school's first composting club in the late 1980s after learning about composting and its potential to contribute to waste reduction from a film in elementary school. The ability to mobilize my peers and raise resources for a composting club gave me a feeling of tremendous pride. Over the years, I've found numerous ways to contribute—through school clubs, in my neighborhood or more recently on boards or as a coach to my children's sports teams. I continue to learn about myself, my neighbours, and my community through connecting formally and informally, to offer my energy, resources, and passion to address the various gaps, problems, and challenges contributing to community needs.
I'm excited to connect and work across sectors in collaborative and just ways, to strengthen the systems and networks that enable every Canadian to give back. I'm committed to identifying the small and big ways that individuals and groups offer with their perspectives, knowledge, gifts and resources that help strengthen their families, schools, workplaces, neighborhoods, parks, streets, or communities. I'm looking forward to getting started—to sparking curiosity, creativity, and connection – to strengthen the voice of volunteerism across Canada."