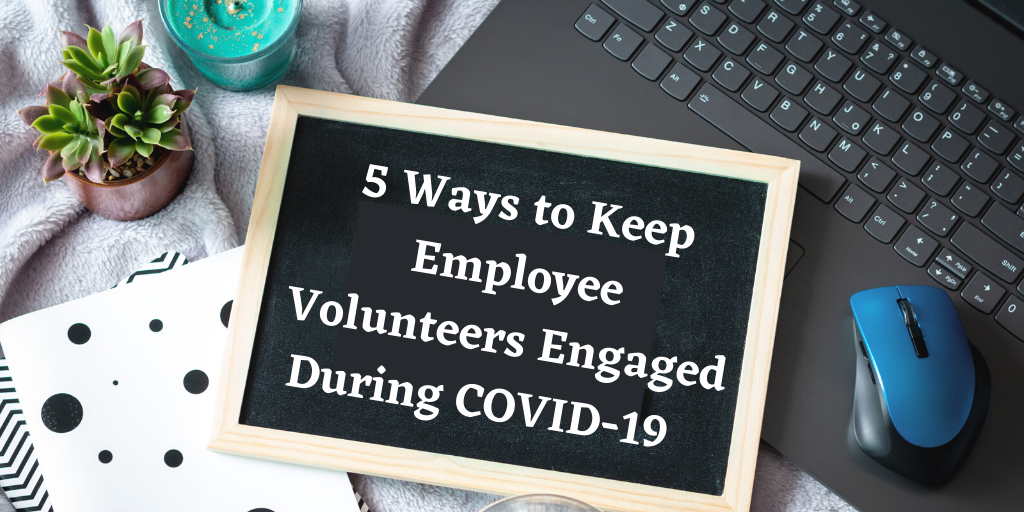 Read Time:
5 Minute, 57 Second
In response COVID-19 gathering and travel restrictions, businesses and non-profit organizations are postponing or cancelling planned in-person volunteer experiences for employee volunteers. Here are five great ways to maintain meaningful corporate community engagement, keeping employees engaged and supporting your non-profit partners and communities.
But first, let's put this into context. The non-profit sector has been hit, hard. Some important things you and your employees should keep in mind before contacting non-profits.
Program and service delivery challenged in a time of physical distancing – Just like businesses, non-profits are deciding if or how they can pivot their programs and services within restrictions. And, just like businesses, with each passing week many are revisiting operations. For example, The Neighbourhood Group in Toronto has had to temporarily close its daycare and social recreational program but continues to provide essential services such as personal care and support at home for isolated seniors, Meals on Wheels and groceries.
Finances and human resources are diminished – A thin sliver of organizations is experiencing a surge in funding and trying to ramp up operations to match increased needs and new resources. Most are struggling financially as fundraising and fee-for-service programs have come to a halt and loans are out of reach. Between revenue drop and necessary operations reductions, many non-profits have already had layoffs and significantly reduced human resources. Of the 16.4 million Canadians who staff the non-profit sector, 14 million or 85% are volunteers. Volunteers over 65 years – the very people particularly encouraged to stay home – put in the most hours. Skilled and experienced staff are also sometimes not available for operations because of physical distancing, illness, child and family care. And yet while many non-profits are short on person power, having more willing volunteers doesn't solve all of the challenges.
New considerations for volunteer recruitment, training, screening, management – Changes to programs mean using volunteers in new ways which requires new training and approaches to training which they may never have done (like online and webinar training). Non-profits are looking at challenges to screening. A complicating factor is that some police services not processing vulnerable sector checks.  All of this means selecting and managing volunteers in new ways, while ensuring safe and effective delivery of programs and services. These new processes and procedures take time to work out.  And, just like businesses, non-profits don't know if they are making plans for 4 weeks or 4 months.  For some non-profits, new volunteer roles just won't make sense right now.
Informal volunteering and risk management – Into the perceived gap between community needs and available services are many passionate informal efforts to match willing volunteers with seniors and others who need groceries picked up or rides to appointments. Most of these well-intentioned endeavours are lacking the risk management protocols that non-profits usually employ to ensure safety for both volunteers and those who need help which can pose challenges amongst strangers.
5 Ways to Keep Employee Volunteers Engaged
1. Shift to virtual/remote volunteer opportunities, where possible
With many in-person volunteer opportunities postponed or cancelled, look for volunteer opportunities that can be done virtually like mentoring via computer, or remotely from home like making masks or checking in on seniors by phone (read more about Virtual Volunteering for Employee Volunteers). Your non-profit partners may be working to adapt existing volunteer opportunities or creating new virtual opportunities that contribute to their mission. This could include skills-based volunteering and pro bono opportunities that support key operating functions like HR, IT, or marketing. Check in with your non-profit partner to see what their needs are at this time and how your company can best support them. Consider offering this assignment to your volunteer committee or similar group of community-engaged employees. Make sure you share the context of non-profit challenges right now with these trusted lead volunteers and encourage them to be patient and flexible. Non-profit needs, challenges and volunteer roles are changing rapidly. Some organizations may have suspended volunteer recruitment, programs or services. Visit Volunteer Canada's website for a listing of volunteer centres across the country that are posting virtual volunteering opportunities.
2. Clearly communicate the extent of company support for in-person volunteering
There are still in-person volunteer roles to fill to help the most vulnerable in our communities and your company may have employees who are willing. During COVID-19 these volunteer roles carry risk. Your company needs to take a position on what kind of support, if any, you are giving for in-person opportunities and communicate this. You may wish to limit company support to informing employees about where to find opportunities while also making it clear that the company does not formally endorse employees participating due to health risks. You may also wish to direct employees to Volunteer Canada's resource Health and Safety Considerations for Volunteering during a Public Health Pandemic.
3. Encourage virtual fundraisers
The number one resource most non-profits need right now is revenue. Some companies with "giving platforms" (e.g. Benevity, Your Cause, etc.) are engaging employees by seeding their giving accounts with money to donate. Some employees are enjoying participating in virtual fundraisers, like virtual talent shows or compnay sponsored rides or runs.  Other companies, like Tata Consultancy Services, are encouraging online donations from employees that will be matched by the company.
4. Educate and engage through virtual lunch & learns
This is a great time for employees to learn more about community issues and the non-profits who work on them. Consider inviting a non-profit organization to give a virtual presentation and/or tour – don't forget to pay them for their time and any other expenses. TD Bank has an internal learning hub that aims to help employees learn more about community issues and the non-profits who work on them. Ensure there is time for facilitated discussion after presentations to engage participations. These activities build a foundation of community knowledge and interest on which to build future employee activities.
5. Motivate through connecting employees, celebrating efforts
There are as many reasons people volunteer as there are people. But connecting with other employees and recognizing efforts are two big motivators for employee volunteers. Keep it social by creating chat groups and/or virtual meetings for your volunteers to share their experiences and progress. Remind employees of their regular channels to report company-supported volunteering efforts and outputs or design creative new incentives. First West Credit Union introduced an internal challenge every Wednesday: all employees are encouraged to participate in a theme question and/or photo challenge demonstrating their support to community, with a donation made to a charity on their behalf for every post.
Remember, the benefits of volunteering flow both to those being helped and the helper. With the pressures of the crisis, for some employees, the "helper's high" – that great feeling from being of service to others – may be just the boost they need right now.