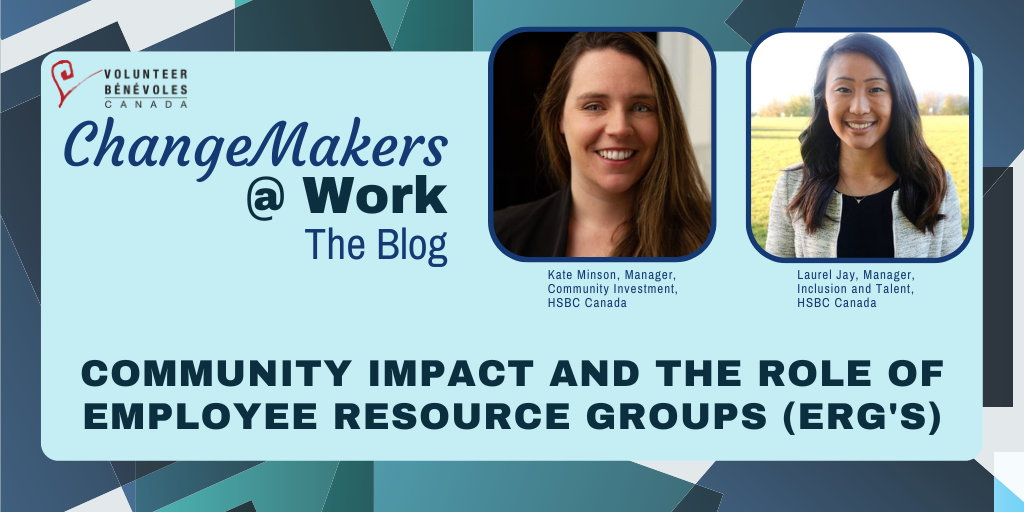 Read Time:
6 Minute, 33 Second
Equity and belonging are foundational principles in diversity and inclusion strategies for many companies. Employee Resource Groups can play a pivotal role in advancing these principles, in the company and in society. During our April 2022 ChangeMakers@Work webinar, we heard how HSBC Canada has co-created community investment programs with HSBC's employee resource groups to deliver positive impact in the community.

During this webinar Laurel Jay, Manager of Inclusion and Talent gave an in-depth overview of HSBC's employee resource groups and their functions within the company. Kate Minson, Manager of Community investment, highlighted HSBC's best practices for success and illustrated the value of collaboration.
What is an Employee Resource Group (ERG)?
Employee Resource Groups (ERGs) are employee led groups that foster inclusivity and create community within the workplace. These groups bring together employees with shared characteristics or common interests and provide a space to build connection, learn from others, raise awareness, and speak up about issues and opportunities in a safe environment.
ERGs at HSBC
In Canada, HSBC has 10 ERGs, and one third of the employee population belongs to at least one of these. The ERGs are chaired by employee volunteers and act as a resource for both their members and the organization. Below is a list of the current Canadian ERG groups which together fit into the wider D&I strategy at HSBC:
Ability is dedicated to leveraging the diverse skills and abilities of employees with visible and non-visible disabilities, and those who are caregivers of individuals with disabilities.
Balance is dedicated to creatinga diverse work environment where everyone has equal opportunity and choice regardless of gender.
Pride's mission is to create an inclusive workplace for LGBTQ+ employees through programs and practices that facilitate LGBTQ+ employee engagement and acceptance in the workplace.
The Nurture network is for working Parents and supports a family-friendly approach across HSBC through educational activities, sharing expertise, and promoting the benefits of a family diverse workforce.
Y-Knot is a multi-generational strand ERG and promotes cross-generational understanding, cooperation, networking, and mentoring.
EMBRACE ERGs are HSBC's global network of employee resource groups for ethnicity and race, they support a more diverse ethnic and multicultural workforce. Under Embrace, there are 4 local ERGs: APIC-Asian and Pacific Islanders committee. CANDI-Caribbean and African network for D&I. ICErg– Indigenous Canadians ERG. And SANDI– South Asian network for D&I.
Prairies mission is to connect employees located across the Prairies to the other ERGs. Representatives sit on the committees of the other 9 ERGs and aim to bring awareness and connectivity to employees in the Prairies.
ERG Best Practices
Using their in-depth experience developing ERGs, HSBC outlined best practices that have helped their company successfully grow and foster belonging through a diverse network of employee volunteers.
Establish clear ERG Guidelines – Give guidance and support for running an effective ERG by providing resources on how to start an ERG, volunteer roles and responsibilities, how to successfully run an ERG, ERG communication, funding and delivering value, and succession planning etc.
Appoint a Sponsor – Ensure each ERG is sponsored by someone on the Executive Committee, helping the ERG connect to business strategy, influence policy and to play a pivotal role in making change and removing barriers throughout the organization.
Review ERG plans and budget annually –Ensure plans and budgets are reviewed on a yearly basis taking into consideration the changing priorities of the group.
Share D&I strategy and employee insights with ERG Chairs – Provide the ERG chair with the wider D&I strategy to disseminate to the group, allowing for greater collaboration and alignment to organizational priorities. Additionally, this information sharing will enable ERG members to highlight where gaps may be and how their work can play an important role in the wider D&I strategy.
Encourage collaboration –Provide space for resource sharing and cross-collaboration between ERGS, ensuring an intersectional approach is needed for inclusive D&I programming and strategy.
ERGs and Community Partnership
The Community Investment (CI) department and ERGs work closely together at HSBC and benefit from what each partner brings to the table. ERGs offer the CI department deep knowledge grounded in lived experience allowing for diverse perspectives on relevant issues. Reciprocally, the CI department leverages their network of community partners, sharing these contacts and connections with the ERG groups. Utilizing these shared strengths, HSBC started bringing organizations and ERGs together in 2020, and as of date have created 3 formal partnerships. Together, the community organization and ERG groups focus on mentorship, resource sharing, and cross-collaboration.
CANDI ERG
CANDI strives to offer an inclusive workspace for Caribbean and African employees, focusing on career development, increasing the visibility and representation, and advocating for change in organizational structures. They partnered with Pursue Entrepreneurship- Ryerson Diversity Institute (2021-22). During the program black high school students participate in entrepreneurship and leadership training to explore new career paths. Modules include developing a business plan, marketing, and financial literacy. Participating youth then compete in a national business case competition. Opportunities for ERG engagement in the program include support with program development, delivering workshops, mentorship opportunities, judge during pitch competition, and to join the program committee.
The CANDI ERG also partnered with Business Advisory Development Services/ Mentorship- through the Black Business and Professionals Association (2020-21). The program offered black business owners a series of workshops, helping them to develop and grow their business and have access to a mentor. Black youth also participated in leadership programming and gained access to a mentor. ERG volunteers acted as mentors for youth and were speakers at events.
Ability ERG
The Ability network partnered with The Neil Squire Society (NSS)- Working Together Program. The NSS is a national charity that uses technology, knowledge, and passion to empower Canadians with disabilities. Program participants receive career assessments, enhancement of communication, computer skills, resume writing, interview prep, and access to an occupational therapist to advise on assistive technology. Opportunities for ERG engagement included participation in an assistive technology building event, computer skill tutoring opportunities, organizing recruitment events and job sharing.
ICErg ERG
ICErg connects and unites Indigenous and non-Indigenous employees across HSBC. They partnered with The Gord Downie & Chanie Wenjack Fund (DWF) who aim to build cultural understanding and create a path towards Reconciliation between Indigenous and non-Indigenous Canadians. HSBC became a DWF Legacy Space Partner, offering a safe, welcoming space dedicated to providing education and spreading awareness about Indigenous history and the journey towards Reconciliation. ERG engagement opportunities for this program were to commemorate the inaugural National Day for Truth and Reconciliation, working alongside Corporate Real Estate, marketing, and the D&I team to shape, and design the Legacy Space in Toronto and promote DWF resources.
Lessons Learned and Moving Forward
To conclude the webinar, Kate Minson discussed some of the lessons HSBC has learned during the collaboration between ERGs and Community Investment and using these learnings will continue to deliver positive impact within the organization and the community.
Assign one person as the key contact in the ERG for community investment partnerships to ensure smooth relationship management and engage in succession planning to ensure longevity of partnerships.
Incorporate community investment partnerships and activities into the ERG's planning strategy.
Provide guidance to ERG members on working with partners in the charitable sector ensuring the needs and limits of NPO partners are taken into consideration when navigating the relationship.
Rethink traditional metrics when measuring impact and outcomes of community partnership by focusing on the learning experiences rather than on numbers oriented metrics (e.g. number of events, people reached).
Ensure ERG groups are well supported and are being heard.
Recognize that members are not a homogenous group and come with diverse life experiences and varying perspectives.