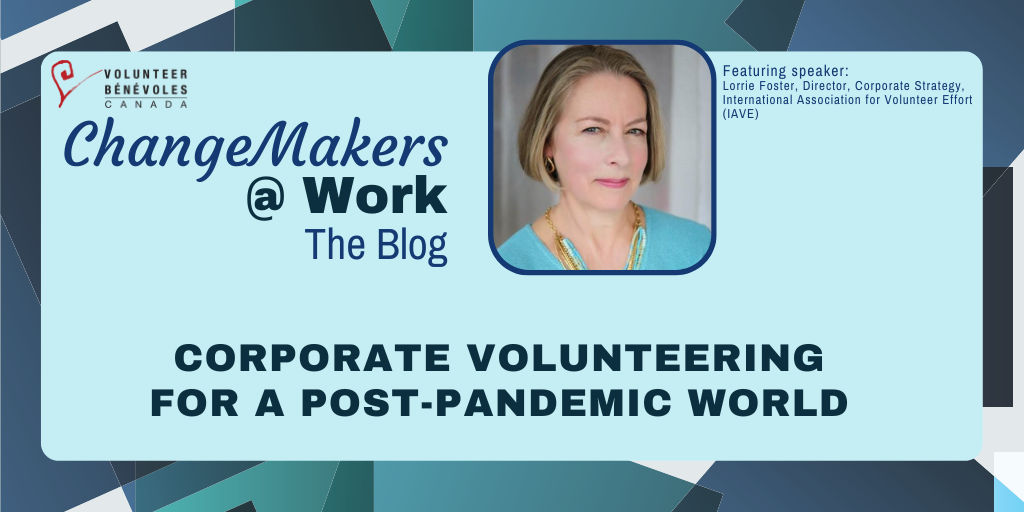 Read Time:
5 Minute, 32 Second
Overview
IAVE creates a more just and sustainable world by enabling the leaders, organizations, and environments that empower volunteers to become recognized as legitimate and important actors in achieving a just and sustainable world.
Lorrie Foster, Director of Corporate Strategy joined Volunteer Canada to discuss IAVE's new research report, Corporate Volunteering for a Post- Pandemic World for the ChangeMakers@Work webinar series. Gathering insights from 80 companies operating across 175+ countries, this report provides an in-depth, global look at the current state of corporate volunteering. The report is built on examinations, of the realities, trends and best practices that continue to shape the field, as seen through the eyes of those directly responsible for managing the volunteer programs.

The research, combined with IAVE's nearly two decades of work with corporations, has brought about the emergence of an "Agenda for the Future"; one which articulates the challenges facing the field, and issues a "call to action" not only for companies worldwide but also for the NGOs and the public bodies they serve.
Global State of Health of Corporate Volunteering
IAVE's report presents the data they have gathered in -this time of unprecedented crisis and change amongst the sectors. Seven broad themes emerged:
The emergence of a global corporate volunteer community has brought about an outpouring of support and co-operation between companies in the form of sharing ideas and inspiring practices in forums such as the corporate volunteer council.
Resilience in a time of global crisis with companies and non-profits pivoting to maintain and expand corporate volunteering programs to meet the needs of community, no matter the challenge.
Expanding the "big tent" of corporate volunteering allowing for increased capacity by going beyond employees to engage their families, friends, and community members.
Reaffirming the case for corporate volunteering by emphasizing volunteering as necessary and beneficial.
The growth of virtual volunteering has increased participation over large areas and across borders.
An increased focus on skills-based volunteering, which recognizes the breadth of people's skills and the ways in which they can contribute to enhance individual lives, improve organizational effectiveness, and support community vitality.
Emergence of younger employees as a leading force for volunteering has driven companies to do more and create more opportunities for change.
Agenda For the Future
Corporate volunteering programs have continued to be vibrant and impactful throughout a changing global landscape. IAVE has highlighted four challenges facing corporate volunteering with attention to actionable steps for companies to consider and use as opportunities for growth.
1. Emerging into a Post Pandemic World and Reimagining the Future
Apply volunteering to issues of equity and social justice. For example, Discovery Limited in South Africa has made a long-term commitment to a community in a township outside Johannesburg where volunteers help to promote good health care and skills to enhance youth employability.
Innovate how technology is used for corporate volunteering by plotting the future of virtual volunteering, keeping in mind that companies cannot expect non-profit partners to always have the same level of technology and capacity.
Reimagine cross-border volunteering to meet new realities that allow for more people to contribute, creating opportunity and growth.
Redefine skills-based volunteering for inclusiveness by expanding beyond lending legal and financial services to non-profit partners. For example, construction skills to repair a building or scuba diving certifications to clean waterways and canals.
2. Coming to Scale: Doing More for Greater Impact
Recommit to the Sustainable Development Goals by aligning applicable pre-established program objectives and initiatives to the SDG's, rather than planning programs to fit the goals.
Increase efforts to measuring what constitutes corporate volunteering by working to develop a universal approach to reporting the nature and scope of giving back.
Focus on documenting "greater impact" by looking at volunteering in terms of outcomes and storytelling, as documenting impact can be difficult and does not have a 'one size fits all' approach.
3. Creating a Volunteer- Friendly Environment in the Company
Position community service broadly with volunteering as a shared value for the company and the employees. IAVE found that in companies where community service is supported employees are more engaged.
Overcome barriers to corporate volunteering due to the resistance of middle managers and human resources professionals. When HR is involved in corporate volunteer planning or volunteer managers are located inside HR, it is more likely that employee's participation will be fostered and encouraged. The participation of CEO's also increases management approval and participation.
Invite broad participation, moving beyond employees to include family members, retirees, customers, suppliers, etc. Programs that invite youth ages 18-21, instill the spirt of volunteering at a crucial age. Grupo Modelo, located in Mexico is a prime example of a company that have embraced inclusive volunteering by getting community members involved in volunteering alongside their employees.
Ensure availability of sufficient resources to manage existing programs and invest in developing new ones. As the report found company volunteer programs are lacking funds and support from the top.
Recognize and reward the skills required to be an effective manager of a global volunteer effort.
4. Becoming Global Leaders for Volunteering  
Essential elements of such leadership:
Ensure a sustained, long-term commitment to volunteering as a priority part of company culture.
Aspire to be a leader for the field, including as a thought leader.
Put high priority on innovative, impactful volunteering to achieve the Sustainable Development Goals.
Garner support and personal engagement from the C-suite.
Actively engage in public advocacy for volunteering, including partnerships with NGOs, governments, and other companies to develop and promote high-impact volunteering.
Financially invest in support of volunteering as a priority through the company's philanthropy.
Invite others to volunteer, moving beyond active employees to include other companies, retirees, families, customers, vendors, and the general public.
Be in service on behalf of local, national, and international leadership organizations for volunteering.
Conclusion
The core message of IAVE's report is that even in the face of an unprecedented global crisis, corporate volunteering remains a vital force – mobilizing the skills, energy, and commitment of workers in every region to help build a better world for all. The findings of the report and its call to action asks that we collectively deepen our commitment to volunteering as part of the solution to the grand challenges we face, and that we embrace volunteering as imperative to the creation of shared value. Corporate volunteering must continue to grow as a high impact force to address the world's most pressing human, social and environmental challenges.
Download the full report: Corporate Volunteering for a Post- Pandemic World