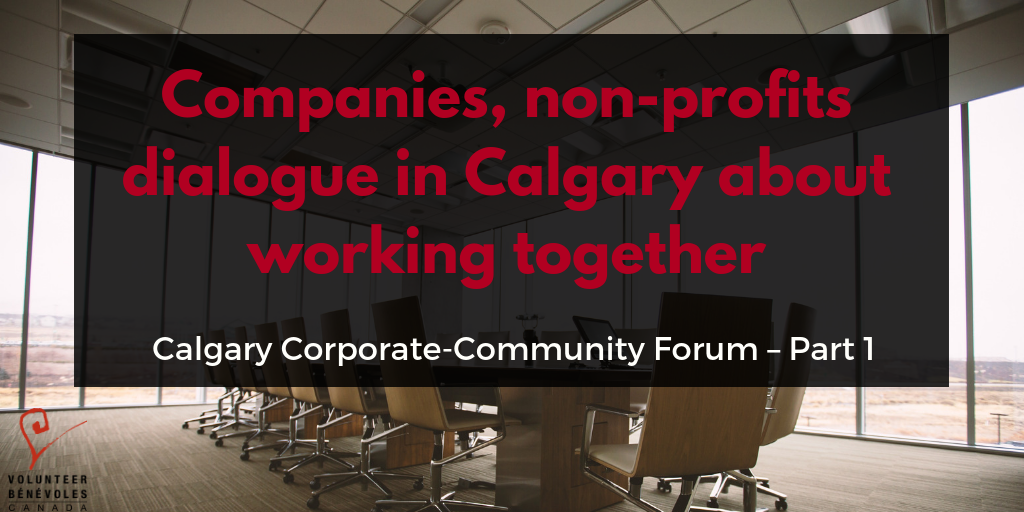 Read Time:
3 Minute, 53 Second
Calgary Corporate-Community Forum – Part 1
Changing the conversation: The first of a 3-part blog, based on a Calgary meeting of non-profits and companies to discuss corporate volunteering.
Volunteer Canada held the semi-annual Corporate Council on Volunteering (CCOV) Gathering in Calgary, May 28 and 29. The Council invited non-profits to join them on the first day in a Forum so that, together, they could discuss best ways to work together to engage employee volunteers. In this 3-part blog we share some of the key learnings.
As keynote speaker Jocelyne Daw of JS Daw & Associates noted, corporate volunteering is quite new, having only enjoyed popularity in the last 10-15 years. When discussing the pros and cons of employer-supported volunteering, the conversation focused on the most common aspect of corporate volunteering: single day group volunteering projects for employees. Corporate representatives enquired, "are done-in-a-day opportunities useful to the charity?" The short answer is, it depends on several factors: the organization; time of year; how many volunteers; and the activity. The volume of donations going in and out of the Calgary Foodbank, for example, means they really benefit from a large group who can help them out for a day. Alternatively, painting a wall at a charity – a task readily available as a response to a group offering to volunteer – may not be as valuable a contribution and too often a default for non-profits who don't want to decline an offer of help. For some non-profits, regular commitments from a company are easier to manage than "one-offs". Before contacting a charity, companies should start with the question, why do we want to volunteer? Then ask non-profits what they have to offer and find the most impactful way to help at the organization, rather than trying to force a project.
In the session, "Beyond another coat of paint", longer term commitments between companies and non-profits on working together with employee volunteers were discussed. Most of these projects involve multi-day involvement of employees, use of employee skills, and a monitoring and evaluation process between the charity and the company. One example is the "In the Lead" program, co-created by Cenovus with Calgary Youth Justice Society. Now in its 7th year, this program pairs Cenovus Energy employees with youth as volunteer coaches. At the end of the program there is a graduation ceremony and plenty of encouragement for the youth.
The longer the volunteer opportunity, the more likely employee contributions can be measured, tracking outcomes and impact, rather than just the outputs such as numbers of volunteer hours or the nebulous 'lives impacted' measure. With planning, non-profits and companies can identify measures and indicators, quantitative and qualitative, that can prove impact and give information to improve impact.
A theme throughout the day was the question of refusal. Can a charity say no to a company's request and what is the potential fall out (the most prevalent being a concern about being denied future funding)? In most but not all cases, a request to volunteer comes from an employee who volunteered or was assigned to plan the opportunity, not CSR department staff. Several companies attending confirmed that there is no tie between denying – or accepting – a volunteer request and a donation from their companies, apart from funds to support the costs associated with the volunteering project.
Amongst the reasons for non-profits to reject a corporate group seeking to volunteer, the most common discussed was timeline. It takes time to plan, execute the project and onboard volunteers. Reaching out just a few weeks before causes stress for the non-profit.
In the relatively new space of corporate volunteering both non-profits and companies benefit from sharing information and learning from each other. Enter the discussion truthfully (be honest that it's an activity for a company team building day or your capacity as a charity) and seek to understand what the other party gets out of the opportunity. Companies, start enquiring about a project early (with at least 6 weeks lead time) to not rush the process and allow for an honest discussion. And, as many of the inquiries for volunteering come from employees throughout the company, companies need to create guidelines and even training for these employees so that they enter conversations with non-profits sensitively and realistically.
In our next blog, we look more deeply at the ways to "change the conversation between company and non-profits" as discussed by the Forum participants.