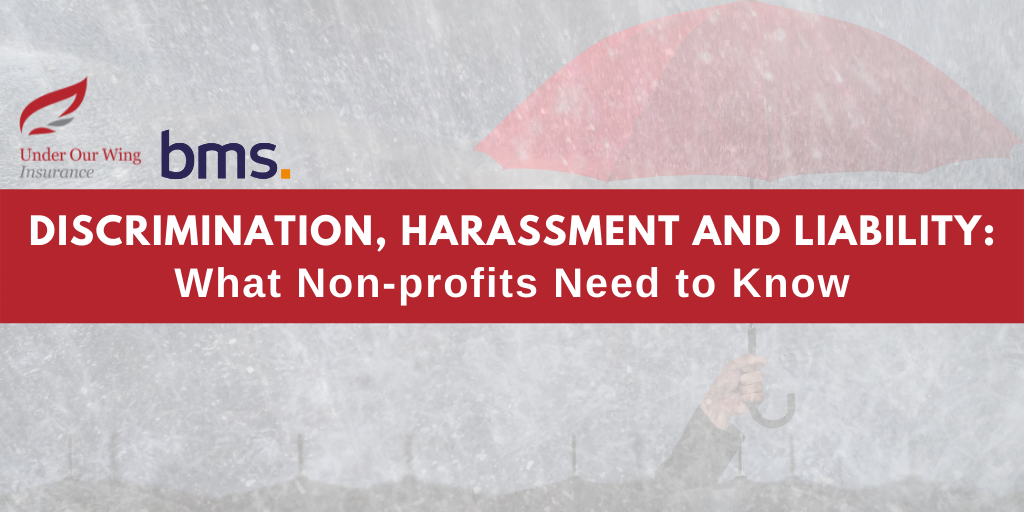 Read Time:
6 Minute, 42 Second
Organizations of all sizes face employment practice liability issues; however, non-profits commonly face additional or increased challenges because of their unique structure and functions. In fact, industry data shows that the majority of Directors' and Officers' Liability Insurance claims made by non-profits are related to wrongful termination or discrimination. The good news is that there are a number of measures non-profit organizations of any size can make to lower their risk.
Employment Contracts
Ensuring the use of up-to-date employment contracts is paramount.
Not having a well-drafted and enforceable employment contract for all employees can cause numerous financial and legal problems.
All organizations should use employment contracts that include the following basic clauses:
A job description which includes the duties and responsibilities of the employee
The length of the probationary period (if applicable)
The duration of the period of employment (e.g. 6 months, 1 year, 3 years etc.)
Employee salary, and if applicable the bonus structure, and benefits
A termination clause
In order to ensure that employment contracts are enforceable, the contract should be signed before the employee begins their first day of work.
Termination
Non-profit organizations are also vulnerable to budget changes from year to year which can lead to the termination of staff in order to balance the books. Termination clauses in employment contracts are important because they can limit the amount of severance pay that the organization is required to provide to employees in the event that they are let go. With a proper termination clause, an organization can usually limit severance pay to a maximum of eight weeks' salary. However, without an enforceable termination clause, the non-profit could be required to pay the employee up to two years of wages.
This risk can be mitigated by having a lawyer draft a customized, up-to-date employment contract for new employees. Although there is an up-front cost to obtaining custom employment contracts, the financial risk of not having an employment contract with a well-drafted termination clause makes the cost worthwhile.
Constructive Dismissal
Due to lean staffing and potentially rapid changes in non-profits' funding bases and short-term project goals, non-profits should be especially aware of the potential for constructive dismissal.
Constructive dismissal happens when an employer makes a substantial change in an employee's responsibilities, location of work, salary, or other basic components of the employment relationship. If this occurs, the affected employee can resign and claim that they were constructively dismissed from their job. They can also claim severance pay in accordance with their employment contract.
Non-profits can reduce this risk by carefully drafting employment contracts and by offering compensation to employees if they are asked to take on additional responsibilities or to move to a new location.
Harassment
Due to the tendency for non-profits to have close-knit work environments, the absence of a well-staffed human resources department, and / or pressure to support high performing fundraisers, events and programs, non-profits commonly either lack formal workplace harassment policies or are prone to inadequate enforcement of these policies. In addition, non-profits often have volunteers join their organization who may not be aware of the organization's harassment policies. Beginning with the #MeToo movement, these important issues are increasingly in the spotlight. If harassment happens at a non-profit, like any company, it can negatively affect the organization's reputation and have legal consequences, both of which can affect the organization's ability to accomplish its mission.
Non-profit organizations should ensure that they have a written anti-harassment policy that is freely available to all staff, volunteers, and board members. Regularly training staff and volunteers on the policy and ensuring that learning about the policy is part of the organization's on-boarding process for new employees, volunteers, and board members is also important. Finally, non-profits should ensure that there is a fair and reasonable process to follow when a complaint is made. In small or close-knit organizations where it would be inappropriate for another employee to receive a complaint or conduct an investigation of the complaint, the non-profit should use a neutral third party to handle this process, such as a Human Resources consultant.
Insurance
Directors' and Officers' Liability Insurance (D&O Insurance) provides coverage for a non-profit organization and their trustees, directors and officers who may be exposed to liability through the actions of a person (e.g. a Board Member) acting in their capacity as a member or representative of the organization. This includes claims arising not only out of the actions of directors, officers, and trustees, but also of employees, volunteers, and committee members. D&O Insurance is for when any error, omission, misleading statement, neglect or breach of duty, employment practice violation or wrongful act such as discrimination or harassment, is alleged against any person acting in their capacity as a member or representative of the organization.
D&O Insurance also typically includes Employment Practices Liability (EPL) Insurance which provides coverage for wrongful acts arising from the employment process. The most common types of EPL claims include:
wrongful termination,
discrimination,
harassment,
and retaliation.
In addition, the policy covers claims from a variety of other types of inappropriate workplace conduct, including employment-related:
defamation,
invasion of privacy,
failure to promote,
deprivation of a career opportunity,
negligent evaluation and more.
Organizations that are members of Volunteer Canada have exclusive access to a specialist D&O Insurance Program designed specifically for non-profit organizations, which in addition to the coverage noted above also includes:
Data Security Wrongful Acts and Privacy Wrongful Acts Coverage
Fiduciary Liability
Outside Directorship and more.

Legal Expense Insurance
Legal expense insurance (LEI) covers the legal costs incurred in unforeseen legal events and fills the gaps that traditional D&O policies don't cover. A wide range of legal expenses are covered, including lawyer and court fees, plus any adverse costs awarded by a judge. An experienced panel of lawyers saves you time and the stress of worrying about what's next, whether it's by answering your legal questions or handling your insured legal dispute. By purchasing your Directors' and Officers' insurance through the Under Our Wing insurance program, LEI is automatically included in your insurance offering, as well as access to a free legal advice hotline and new in 2022 a comprehensive online document template library.
Additional Products
Commercial General Liability
Commercial General Liability (CGL) insurance protects your organization if you're found legally liable for injuries or property damage caused by your operations, accidents on your premises or at your client's location and advertising injury. It provides coverage for the costs of lawsuits and if often required for leases and contracts.
CGL is a way to protect your organization in case you ever have to defend a claim against your business in court. With this coverage, you'll receive funds up to your policy limits to cover damages assessed by the courts to compensate third parties, and cover legal defence fees and settlement charges.
CGL is recommended for most organizations, including those that:
Lease or own an office
Interact with clients or members of the public
Host or attend events
Office Package
For organizations with valuable contents to insure, an Office Package is recommended, which includes Commercial General Liability, as well as:
Property/Contents to cover items usual to an office, including equipment, desks, chairs, filing cabinets and computers, as well as any stock and improvements and betterments.
Crime coverage that protects against financial loss due to dishonesty, fraud, or theft of money, securities or other property owned by the organization.
Business Income which insures against loss of income resulting from direct physical loss or direct physical damage to the premises by an insured peril (e.g. fire).

Connect with BMS
For more information or if you have any questions about D&O or other insurance coverages, please connect with a BMS at 1-844-294-2715 or email [email protected].