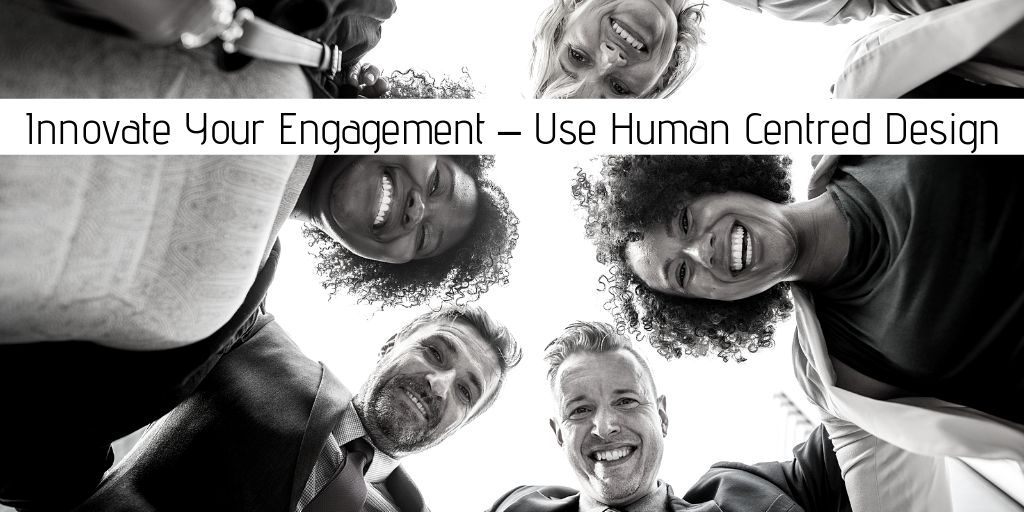 Read Time:
5 Minute, 56 Second
Have you ever pondered how you might make your engagement program even better? I certainly have. Engaging people in taking action is a rewarding endeavour, one where we can empower people to help others, to improve our communities and to change our world. As leaders, we strive to make it a positive, impactful experience for all involved. Design thinking offers a new approach to help us to achieve these goals. Let's explore how this approach can build on our current practices and help move our engagement programs to the next level.
Design thinking is both a mindset and a process – one that focuses on truly understanding people and their experiences to gain insights, identify challenges and possible opportunities, and test solutions. The process looks like this – one where the problem-solving proceeds through several phases, circling back through various iterations. This robust, sometimes ambiguous methodology has the power to produce incredible, innovative results.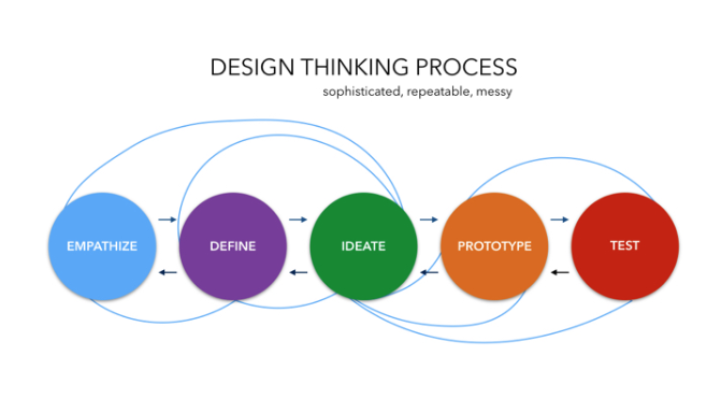 Many sectors are looking to design thinking to innovate for the future: from online experiences and product design to services and social systems. In recent years, non-profits have also been exploring how this can be applied to shape better civic engagement, greater impact and more. K. Deiglmeier, N. Roumani, & A. Greco note that "Design thinking is particularly capable of sparking cultural change because of its methodology for collective problem-solving based on empathy, prototyping, and iteration."
We know that the landscape of volunteer engagement today is shifting. By applying a design thinking approach, organizations and engagement leaders can better adapt and innovate. Here are a few ways that you can explore this approach.
BUILD EMPATHY
This critical stage of design digs deeply into people's experiences, often referred to as 'users' in design thinking terms – in our case, volunteers and prospective volunteers. We know that understanding motivations can help to best match volunteers with roles. In order to better understand the deep, often unspoken needs and hopes of people, and to develop greater empathy with users, a couple of design tools offer promise:
Ethnography
A term rooted in the social sciences, applying ethnography to designing engagement programs involves deep observation paired with conversation. For example, you could take time to observe what the experience is like for volunteers when they arrive at your organization for their shifts or apply to become a new volunteer (or they can journal this themselves). Ask them what they are feeling and thinking at different times and why they do what they do?
Additionally, you might focus some enquiries on how your "extreme users" are experiencing your program, such as the people who may visit your volunteer website but don't actually apply – what are their obstacles? Or your uber volunteers – what are they doing or experiencing that is deepening their commitment?
Empathy mapping
Another common tool used in service design is empathy mapping, which creator Dave Gray says "helps teams develop deep, shared understanding …to help improve [user] experience…to design better work environments and a host of other things."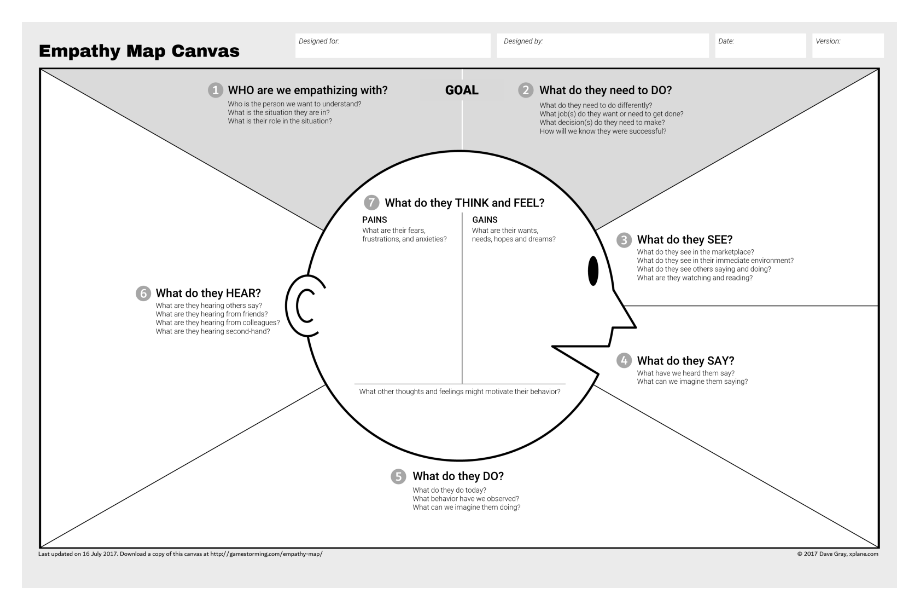 For example, you could host a collaborative session with diverse staff and volunteers to look at the volunteer experience for new Canadians. Together, you would identify their primary goals and then explore what they see, hear, do, say. Finally, you would look at what they are thinking and feeling – what are their pains and gains currently? This becomes a powerful tool to understand your active and prospective volunteers and identify new areas for positive change and growth.
These approaches help to gain new insights and reveal program areas to build and develop. Once you have clarified the key area(s) you want to focus on, it is time to develop ideas on how to address them.
GENERATE IDEAS
This stage is where you generate lots of different ideas, using the rules of brainstorming, where all ideas are welcome and there is no bad idea. Ideally done collaboratively with diverse people in the room (including volunteers if possible), the idea is to look at the defined challenge(s) or area(s) to address and think about how they might be tackled. A few tips for effective ideation and brainstorming include:
Give people time to think independently and write ideas down before sharing
Encourage people to think of wild and unusual ideas – go for quantity!
Warm-up with creativity games to get the juices flowing
Sticky notes and markers can help in capturing ideas and organizing them later
Encourage visual thinking and fun
Once you have generated ideas, take some time to organize, discuss and prioritize together. What if your challenge area is the application process – what are some creative ways to change this or even turn it upside down? What if you asked the question of how might we make the application process an exciting, instead of intimidating, experience? Or perhaps you have identified that your volunteer recognition efforts are getting stale. What are some ideas that would make your recognition meaningful and powerful for your volunteers?
EXPERIMENT
The design thinking world uses terms like prototype, test and pilot. Essentially, the concept is to try out your ideas. We are often hesitant to experiment, with a fear of failure or wanting everything to be perfect first. Design thinking takes the opposite approach. By trying out rough prototypes (as little effort and cost as is needed), we quickly see what works, get feedback and improve. This is often a stage where you can bring rough versions of materials or processes to try out.
For example, perhaps you have developed a new idea for your orientation session. Draft a rough sample orientation and try it out in a role play with participants, facilitators and materials. Or maybe you want to change your application form. Sketch out a few options and test them out with people to see if they make sense. Your solutions will be stronger for it. By engaging diverse stakeholders in this stage, including volunteers, you will work towards better adoption of change. You can also see how well ideas are meeting user needs early on. As Melanie Bell-Mayeda says about prototyping: "Do it early, do it often, and keep iterating toward the right solution."
The new year brings a sense of adventure. There is a sense of a fresh start, of new goals and new perspectives. Why don't you try out design thinking to reach some of those goals for your engagement? You can spark new innovations that will have a positive impact on your volunteers, your organization and your mission, taking your program to new and exciting frontiers.
Christine Martin leads Volunteer Engagement for Evergreen, a Canadian not-for-profit that enables flourishing cities. She is passionate about authentic engagement of all kinds and is currently pursuing a Master's in Design, in Strategic Foresight and Innovation at OCAD University.