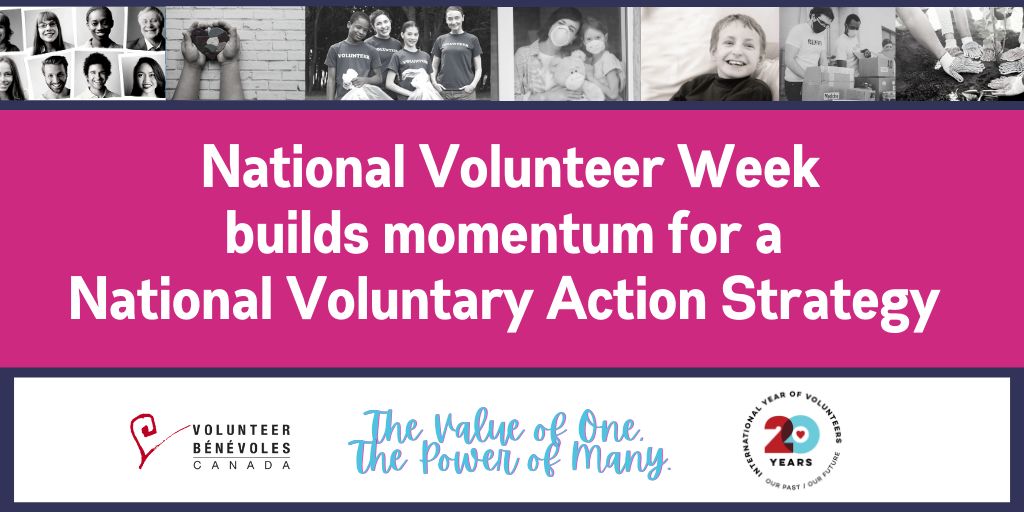 Read Time:
3 Minute, 36 Second
Our theme and our celebrations for National Volunteer Week 2021 were inspired by National Volunteer Week 2001. Twenty years ago, we celebrated 'The Value of One, The Power of Many' alongside the International Year of Volunteers. You could say that 2001 lay a solid foundation for volunteerism on which we stand today, but we also know that the world of volunteering and community engagement has changed dramatically.
We have seen more intense and accelerated changes this past year, with informal volunteering, neighbourhood groups, and organic movements surging to help extended family, friends, and neighbours with basic needs. People gave voice to social injustice, racism, and economic inequalities and businesses found innovative ways to co-deliver community programs with non-profit partners.
Our 2017 research examined the changing nature and perceptions of volunteering, uncovering the term Individual Social Responsibility (ISR). From the time we wake up until we go to sleep, each of us expresses values that reflect our social responsibility. Composting our orange peel, packing our reusable cups, carpooling to work, picking up a coffee from a fair-trade brewer, attending a board meeting afterwork, are all great examples of this.
According to the most recent study, the 2018 General Social Survey of Giving, Volunteering, and Participating, in addition to the over 12 million Canadians who volunteer through organizations, an additional 12 million Canadians engage in a range of informal volunteer activities.
People are raising funds to purchase an accessible van for a neighbour after an accident.
People are raising awareness about climate change.
People are mobilizing to speak up against anti-Black racism, transphobia, and the history and current living conditions in many indigenous communities.
About 8 in 10 Canadians volunteered their time in 2018.
"Volunteers play an important role in maintaining community well-being and contributing to the overall Canadian economy. Their annual volunteering time commitments equalled more than 2.5 million full-time jobs in 2018."
The definition of volunteerism was beginning to evolve.
While the latest data on volunteering predate the pandemic, they provide a baseline for measuring the impact of the pandemic on volunteerism.
Then, in June 2019, The Special Senate Committee on the Charitable Sector released its report, Catalyst for Change: A Roadmap to a Stronger Charitable Sector. Among the 42 recommendations, there is a call to create a national voluntary action strategy. In March of this year, the Federal Government released their response to the report.
2021 will be an exciting year. The celebration of our past and recognition of our present provides the momentum to take action, to equip and position our sector for the next 20 years.
We are energized by the NVW Kick-off event, hosted in partnership with Employment and Social Development Canada, that heard from Nkiruka Stella Okonkwo, who led the strategy for Nigeria's National Policy on Inclusive Volunteerism. There was a breakout discussion where leaders from the Volunteer Centre Council, the Corporate Community Engagement Council, Volunteer Management Professionals of Canada, and our counterparts in provincial and territorial governments and federal departments explored what a Canadian Voluntary Action Strategy could look like.
Civil society depends upon responsive governments, thriving business, and a resilient non-profit sector working together. Collaboration of this kind will be vital to the success of developing a National Strategy.
We will continue to collaborate and learn from our counterparts in Canada, and around the world, on how to develop a strategy for Canada, that incorporates the value of inclusion, social justice, youth engagement, climate change, and the changing nature of volunteering.
The theme of National Volunteer Week came alive because of Canadians, posting videos and messages, hosting virtual events, sending cards, giving out gifts, raising flags, planting seeds, sharing stories….
The Value of One. The Power of Many.
The celebrations this week have shown us once again that Canadians are generous when it comes to sharing their time and their passion. We saw many organizations thanking their volunteers but what struck us the most were the stories from volunteers, sharing their 'why' and we continue to be inspired.
The value of one act of kindness has a ripple effect that reaches many and, the power of many lives impacted, creates a stronger, more inclusive and a more connected Canada.
Volunteers Bring Change.