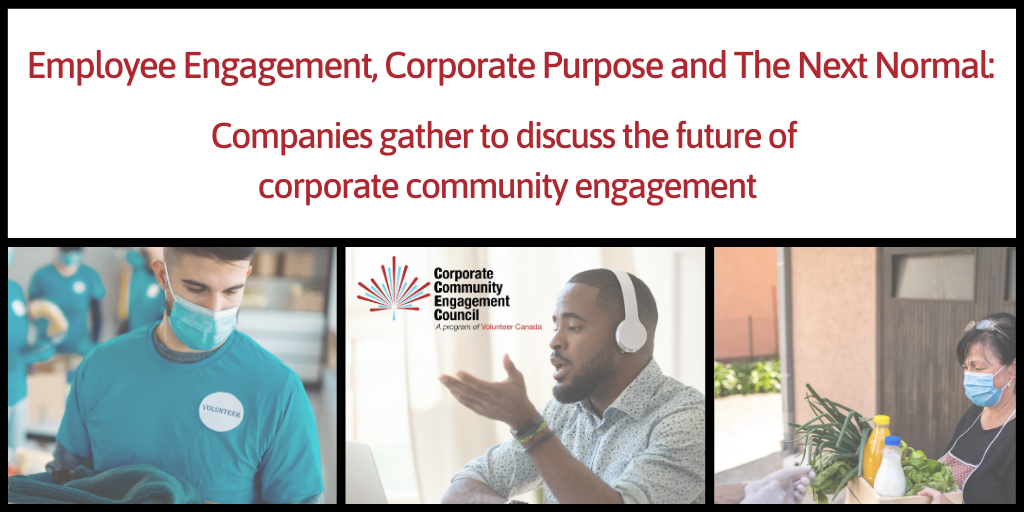 Read Time:
5 Minute, 5 Second
150 delegates from 100+ companies of Volunteer Canada's Corporate Community Engagement Council (CCEC) and Points of Light Corporate Service Council virtually gathered on April 8 for a powerful and insightful afternoon of engaging presentations and thought-provoking content.
The half-day event explored: What will the future of work look like and how will it affect employee engagement in community issues? What is the role of companies to leverage and support the voices from our communities as we work for change? How can companies articulate the value of social impact? How can we address systemic inequities locally and across borders?
The two organizations were natural partners to convene the event. Points of Light has been on a mission 'to inspire, equip and mobilize people to take action that changes the world'. This was sparked by a call to action from President George H.W. Bush that invoked the vision of a "thousand points of light". It invited Americans to take action through service of their fellow citizens. Companies and the Corporate Service Council have been a part of that mission for many years.
As a part of advancing its mission to provide 'national leadership and expertise on volunteerism to increase the participation, quality and diversity of volunteer experiences', Volunteer Canada has been convening a Council of companies for over 15 years who are interested in supporting the mission and advancing Corporate Citizenship practices. In recent years, the Council's focus has expanded from volunteering to include the many ways companies can engage their stakeholders in activities that improve community.
To begin the April 8 event, a timely and poignant question was raised by Natalye Paquin, President and CEO of Points of Light : "We are at the dawn of a new era; how do we create a society where it is easy to create change?"
Change is constant; now more than ever, the demand for actionable change for our planet and people is loud and clear. "We express our values that reflect our own sense of individual social responsibility" says Paula Speevak, President and CEO of Volunteer Canada, "Composting, car pooling, buy coffee from a fair-trade provider and attending a board meeting in the evening all reflect our individual social responsibility or ISR." Paula went on to ask, "What happens when IRS and CSR come together? We have seen time and time again that a civil society depends on a responsive government, thriving business and a resilient nonprofit charitable sector all working together" states Paula.
The four sessions that followed continued to draw together the connections between personal and corporate responsibility at this moment, and in a post-pandemic era:
Experts from Deloitte, the University of Toronto, and author/consultant Bea Boccalandro, shared insights on the pandemic's impact on the future of work, cities and personal connections, to predict necessary changes to employee community engagement. Boccalandro suggests that, especially as traditional volunteering activities for companies have been disrupted, the time is ripe for a focus on helping employees pivot their daily work in ways that create positive societal change and the benefits of "job purposing".
In discussion with Rachel Dick, Employee and Corporate Campaigns Manager, Coast Capital Savings and CCEC Co-Chair Latia Curry, Principle at RALLY, illustrated the importance of companies championing causes with issue fluency and authenticity through Rally's Brand Advocacy Map, featured in the Harvard Business Review. Representatives of Marriot International and Conagra Brands joined the session to discuss equity and authenticity in employee community engagement.
Following an introduction by Tina Cobb, Senior Policy Advisor of Sustainable Development and Strategic Partnerships at Government of Canada, on the Sustainable Development Goals (SDGs) and Canada's commitments including the role of business, Farron Levy of True Impact outlined a practical method for measuring the contribution of company volunteering to the SDGs. Initiated by IMPACT2030, this tool has been tested by companies like Bank of America who was on hand to share their positive experience with the open-source tool.
The last session featured the initiatives of UPS and Pager Duty to support and elevate their employees' voice on societal issues. Nikki Clifton, President of Social Impact at UPS, shared with Points of Light's Chief Civic Innovation Officer, Jenny Lawson, the story behind their recent publication Black Voices from Big Brown: Untold Stories of African Americans at UPS and its impact on employees. PagerDuty outlined the policies and programs they have introduced to encourage employees' involvement in societal issues as advocates and allies. The session ended in breakout discussions between delegates on their successes and challenges on efforts to support employee voice.
In wrapping up, Elizabeth Dove, Volunteer Canada's Director of Corporate Citizenship, offered that the actions we all take set a path of potential and promise. From purpose-filled mission, vision, values that are inclusive, credible and demonstrate trust, "Corporate Citizenship's potential in the new era will be born from a willingness to look at purpose from the lens of impact, and an openness to the creative possibilities that then arise on tactics and metrics. Corporate Social Responsibility professionals need to step courageously into this moment to lead conversations at companies now, when organizations are being more nimble and ready for change… This is the time to lean into employees' desire to be engaged, use their voice, and colour outside the formal volunteering lines."
The event served as a call to action for leaders to show up authentically for their teams, ask important questions and be ready to hear what is on the minds of employees and how they wish to express their individual social responsibility. Courage, skills and data are required to persuasively present the value propositions behind these necessary changes to company leadership and to support these leadership actions, CSR professionals need to lean on each other in communities of practice, such as Volunteer Canada's and Points of Light's Corporate Councils.
Learn more about Volunteer Canada's Corporate Community Engagement Council and Points of Light's Corporate Service Council.