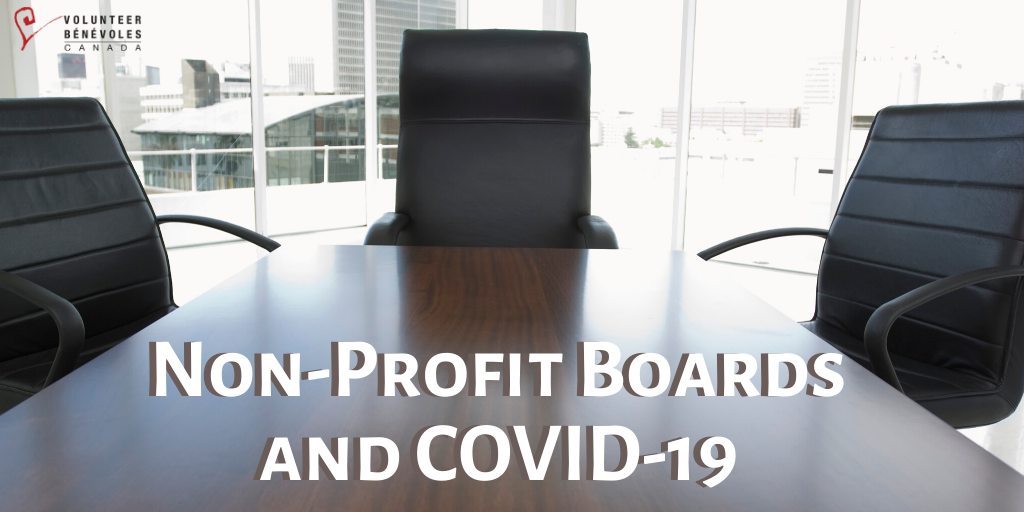 Read Time:
3 Minute, 14 Second
What is the role of the board of directors within a public health emergency? Non-profit organizations across Canada are working hard to respond to the COVID-19 pandemic in order to continue providing essential services in their communities and, at the same time, they need to manage the impact on their own sustainability. Difficult decisions must be made in a situation that is not only unprecedented but rapidly changing.
The Board's Role in a Crisis
If the organization has paid employees, the Board should be working closely with senior staff to support operational decisions as well as to consider the risks involved in those decisions. In an all-volunteer run organization, the board would work with leadership volunteers and key stakeholders. The Board's legal responsibilities continue to be those of oversight, of strategy and of ensuring the organization stays true to its mission and, as such, when there is staff, they are normally less involved in operations. At this time, however, they need to be more closely involved in assessing the impact of the public health crisis on their organization.
Risk Management – 10 questions to consider
Can we continue to offer programs and services according to public health authorities?
If we continue, how do we modify our delivery format to mitigate risks?
If we cancel or postpone programs, services and events, what are the financial implications?
What is the position of funders for program and project grants?
How does the situation impact our ability to retain paid employees?
What resources are needed for employees to work from home?
What are the organization's greatest vulnerabilities – in the short and the long term?
How can we prevent worst-case scenarios from occurring?
What questions from the media would we least like to face?
How can we ensure we continue to ensure our obligation to exercise our Duty of Care?
Having considered these questions, the board can support organizational decisions that will have to be made (e.g. which programs to continue, which to modify, which to close down and which new ones to start up) and which policies and procedures need to be reviewed or modified in light of changes made and potential risks.
BoardSource recommends setting up a thorough crisis response plan that will help provide consistent messaging to the general public, to staff and to volunteers. This can include:
Communications planning – How should you be communicating and with whom? When should you be communicating? What information should you be communicating?
A media strategy
Contact information for key stakeholders
Essential policy statements
Talking points to FAQs
Clear and consistent communication through approved channels will help ensure the safety of staff and all stakeholders.
Financial Viability
Boards also need to be concerned with the organization's current financial situation and to look at measures to mitigate potential financial loss. Senior staff or leadership volunteers may need support in making decisions regarding reassignment or layoff of staff or about approaching current funders about reallocation of funding or additional funding for current pandemic-related needs.
Annual General Meeting
As current directives and advisories related to COVID-19 and group gatherings do not allow for a meeting to be held in the traditional format, you might have to consult legal counsel and advisors at an early stage to determine which approach works best for your organization. There are three options for your upcoming AGMs:
Delaying the AGM
Virtual Meeting
Hybrid Meeting
The Board has a responsibility to support the executive director and staff as they maintain daily operations while assessing the current situation and plans for the long-term. The Board can help support the organization's current needs and operations while looking at the future through that wider lens.
Additional Resources:
Annual General Meetings During the COVID-19 Pandemic (Volunteer Canada, bms., Gowling WLG)
COVID-19: Volunteer Engagement in Public Health Emergencies: Risk and Liability (Volunteer Canada, bms., Gowling WLG)