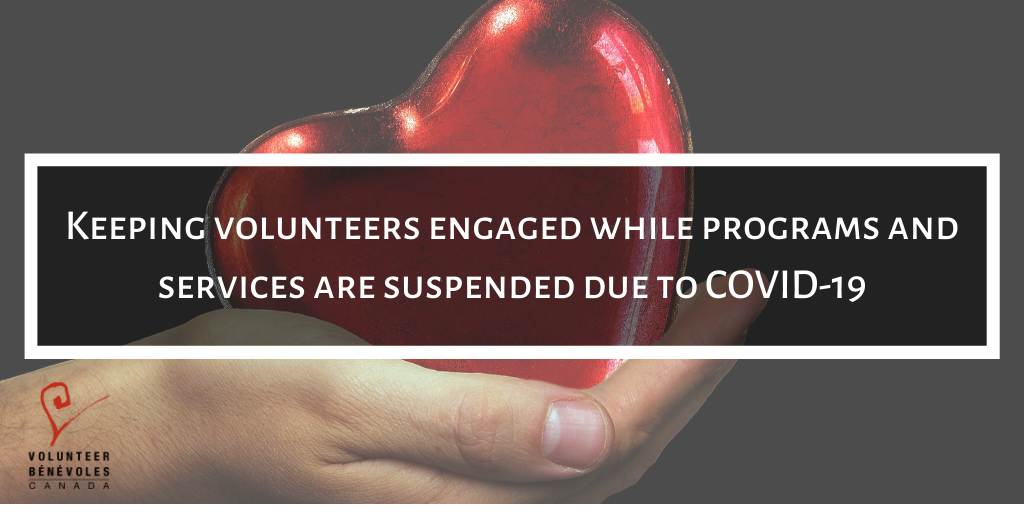 Read Time:
2 Minute, 18 Second
In the best of times, good volunteer management entails keeping volunteers engaged – with their tasks, with the clients they serve, with the mission of your organization. After all, this is probably what drew them to you in the first place, and certainly is what motivates them to stay with you.
What to do when programs are cancelled or pulled back and volunteer activity is curtailed or called off altogether? For some volunteers, what they do with your organization is what provides them with a vital social connection to their community. For others it is what gives them a creative or intellectual outlet for their skills and time. For still others, it is how they feel fulfilled or able to put their values into action. And, for students in many provinces, volunteering is key to their eventual graduation.
Many volunteer centres and other non-profit organizations have responded quickly and creatively to this challenge and are leading the way in implementing ways to keep volunteers engaged. Here is a list of ideas we are hearing from them, followed by links to what some are doing.
> Convert in-person volunteer jobs into virtual positions and create new virtual positions.
> Create a blog or regular email communication to update volunteers about what your organization is doing to carry on its mission and/or serving its clientele.
> Use this blog or email blast to broadcast any volunteer requests, virtual or other, that emerge as the situation evolves.
> If volunteers are continuing to perform regular or redesigned roles (following a risk assessment on your part), ensure that they are well informed about all safety procedures.
> Create on-line training or convert existing training to on-line training and encourage volunteers to participate. This might be easier to handle as independent learning modules, rather than webinars.
> If you are a volunteer centre, connect with your municipality and health network about volunteer needs during the pandemic – you could serve as a link between people wanting to help and the needs in the community. Suggest these opportunities to the volunteers who are temporarily unable to do their regular task.
Some links to inspire and guide you:
> Virtual Volunteering, one of the categories on our COVID-19 resource page (Volunteer Canada)
> Check list for volunteer safety (Volunteer Canada)
> On-line training opportunities for volunteers (Volunteer Action Centre in Waterloo Region, ON) 
> Volunteering during the COVID-19 pandemic (Volunteer Victoria, BC)
> Comprehensive response to COVID-19 (Volunteer Toronto) staying connected, virtual volunteering opportunities, etc. Volunteering
Whether or not you are able to implement any of these or other strategies to keep volunteers involved, it is essential that you keep the communication ongoing and open so they still feel connected. And don't forget to celebrate them during National Volunteer Week!