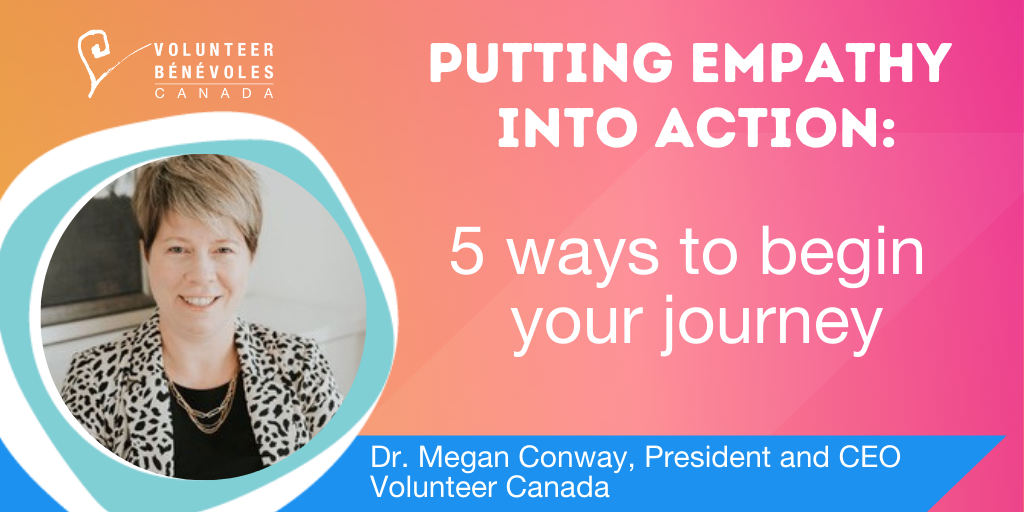 Read Time:
4 Minute, 29 Second
"In order to empathize with someone's experience you must be willing to believe them as they see it and not how you imagine their experience to be." – Brené Brown
We are living in incredibly complex, conflictual, and challenging times. I often find myself reflecting on the deep uncertainty and change of today's world. From climate crises to the war in Ukraine, all happening against the backdrop of a global pandemic and the ongoing journey for Reconciliation and racial justice, the only certainty now is change.
Amidst the acceleration of change and disruption, Canadians from coast-to-coast-to-coast show up and make a tremendous difference. National Volunteer Week (April 24-30) is an opportunity to champion the tremendous work of volunteers across Canada. Through activism, mutual aid, hyper-local support, informal volunteering, familial caregiving, and formal volunteering, Canadians continue to rise to address collective and common challenges to improving life in our communities.
When I think about the ways that Canadians have contributed over the past couple of years, I feel a bit awe-struck. Every day, individual Canadians show up with compassion and creativity to meet modern challenges—to solve problems with curiosity, ingenuity, grace and kindness through their acts of service and selfless contribution
Now, as the country imagines its social recovery from the pandemic, the profound human connection created through empathy is at the heart of healing.  Empathy in action holds the potential to create more resilient individuals and stronger communities. Empathy improves our lives, the lives of our children, and the lives of those we support. Canada needs empathy in action, now more than ever.
For empathy to really matter it cannot be practiced alone or from the sidelines.  Our challenges and the changes we are facing across our country demand we find ways to put empathy into action in our daily lives to effect change across our diverse communities, sectors, and organizations. 
As we begin National Volunteer Week, I have been reflecting on ways we can begin to put empathy into action:
Observe.For empathy to take root in ourselves and for it to move into action, we must cultivate an observational capacity. While we can never walk directly in someone else's shoes, we can try to understand, relate, and walk alongside. Observing and paying attention to what is happening in our neighborhood, our community, our country and the world, is essential. Volunteering connects us to people and experiences, helps us get to know our community, to better understand the role we can play.

Be Curious. Curiosity feeds empathy. When we are curious and non-judgmental, we find more ways of connecting with others, of seeing the depth of experience and of working together to solve problems. Curiosity is a skill that can be practiced and enhanced. Volunteering enables us to understand what someone else is going through, opens us up to new perspectives, teaches us in new ways, feeds our curiosity that in turn feeds our empathy.

Make Connections. Empathy thrives in connection. The pandemic has isolated us in profound ways, limiting our ways of connecting, or moving us to find, and rely on, new ways of connection. Further, many of us have become polarized in our opinions, perspectives, and beliefs. If we want to create more empathy in our communities and organizations, we must find ways of connecting with those who are different from us, who hold different beliefs and perspectives, who see and experience the world differently. Volunteering connects people from diverse backgrounds and life experiences in formal and informal settings, creating opportunities to address challenges together.

Build Trust. Creating trust and building trust with others enables empathy to grow. Trust, for me, means that I am willing to lean into the relationship and to believe that something new will emerge from my participation in it. Trust also means I am willing to experience something new, trust myself in offering my skills and knowledge when giving back and believe in my ability to contribute meaningfully. Volunteering has reciprocal benefits, where venturing outside of our comfort zones can lead to increased learning and understanding. We cannot fully experience these benefits without trust.

Feed Hope. Hope remains a mystery to me. And yet I know inherently that anything good that has ever been created, any problem solved, has been born of hope. While I am unsure how to will or cultivate hope, when I reflect on challenges in my own life, I am reminded that hope served as anchor and guide. I think we volunteer because we hope for change… in ourselves, and in our communities, we hope for a better future.
During National Volunteer Week, I invite you to reflect on your volunteer experiences, and the role empathy has played. Take time to reflect and share the ways you put empathy into action.
And take time to celebrate. Celebrate your own commitment to community and celebrate those volunteers around you.
This National Volunteer Week, Volunteer Canada wants to start a national conversation on how we can generate more empathy across our country, in our communities and in our homes. Keep an eye out in May for our soon-to-be introduced empathyinaction.ca website. We look forward to continuing this conversation and having you join.