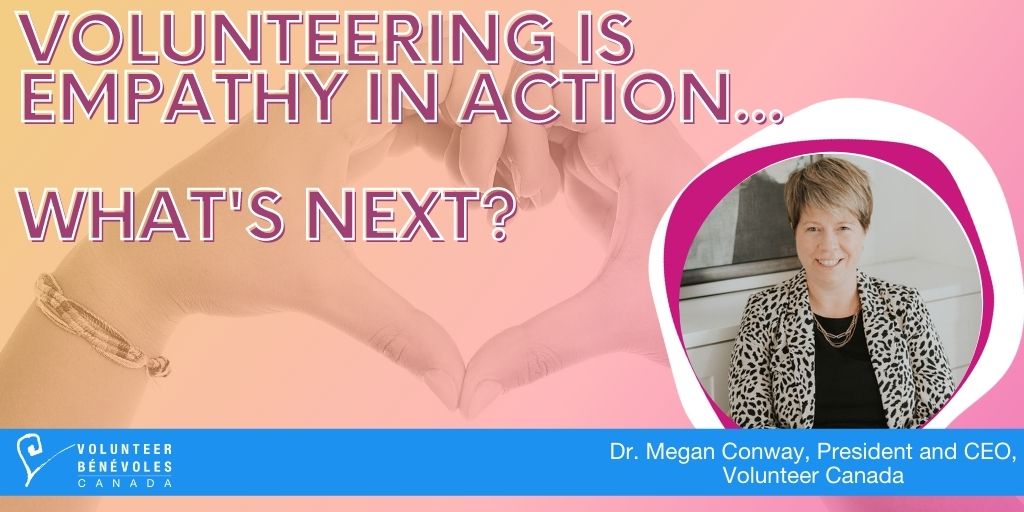 Read Time:
1 Minute, 59 Second
As I reflect on National Volunteer Week, I am mindful of the tremendous work that volunteers and those that engage and support them are leading across the country. This year's theme, Volunteering is Empathy in Action, has been a wonderful opportunity to hear how Canadians are moving their empathy to action in connected, heart-centred and engaging ways.
As the CEO of Volunteer Canada, I want to say how proud I am to see how volunteering has been championed and celebrated this past week. As we continue to move forward there are two important messages I want to share:
I'm so thankful to have had the opportunity to hear from Mr. David Johnston, Former Governor General of Canada, on how we can build more empathy in our communities. I invite you to participate in this important national conversation about how we can create the kind of ecosystem that brings Canadians together in real ways to solve the challenges and crises we face. Please go to www.empathyinaction.ca for more information. We would love to hear from you about how we can build new narratives and models that enable broader forms of participation and action to solve the challenges we face and build stronger more connected communities.

Over the next few weeks, Volunteer Canada will be hosting a series of guest blogs from some leaders across the country who have dedicated themselves to creating social change. These leaders were asked two important questions:


Why does volunteering matter now and in the future?
What does Canada need to strengthen its volunteering infrastructure?
Our goal is to keep building on these great conversations, to connect with diverse voices, and to start building this roadmap that will extend across all provinces and territories.
National Volunteer Week has been a week to say thank you and to celebrate the contributions of volunteers who put their empathy into action in so many ways. We recognize how these acts of engagement, compassion and caring will move us forward as a country. We have been inspired by the voices of volunteers, of Canadians, of community members, and we want to keep hearing from you. We will continue to gather and develop the tools and resources we need to address the challenges we face.
Many thanks for continuing this conversation with us.
Add your voice at empathyinaction.ca