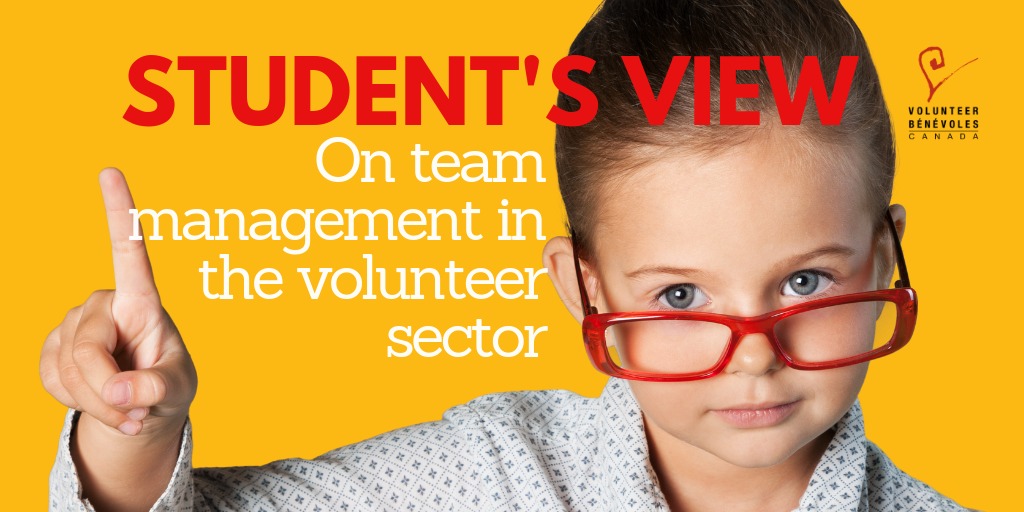 Read Time:
4 Minute, 59 Second
How does the volunteer sector manage to excel without exhausting the thousands of volunteers and employees that work for it?
Last January, I joined the eight-person team at Volunteer Canada (VC) as Communication and Marketing Assistant. Now that my student internship is almost over, I would like to share what I have learned in terms of employee and volunteer management in the volunteer sector.
What led me to examine the structure of the VC organisation is largely due to my astonishment when I realised the amount of quality work that could be accomplished by such a small team in so little time. I then realised that many volunteer-supported organisations and volunteer centres throughout the country share an impressive similarity with VC's organisation: they manage to develop and offer services that enrich their communities with (often times) very few allocated resources. I therefore wondered how the volunteer sector managed to excel without exhausting the thousands of volunteers and employees that work for it? What is the secret to efficiently managing volunteers and staff in this sector? I believe the recipe varies for all volunteer-supported organisations and volunteer centres since many different factors come into play. Generally speaking though, I think all recipes should incorporate certain basic ingredients, whether they apply to volunteer teams or employees. And here they are!
Please note that the advice below is simply that: advice. Therefore, the way you use them may vary according to your organisational structure.
We are all equals
Even if we feel and hope that all team members are treated equally, one person may not share that opinion. That's why a good supervisor is encouraged to take the time to hear and respect all voices within the organisation. If someone is quiet during a formal or even an informal meeting, the supervisor can ask this person to share his or her opinion at an appropriate time. In other words, the supervisor must realise that his team is made up of individuals with different personalities and that he must adapt to the comfort level of each team member without losing sight of what needs to be accomplished.
The supervisor must also make sure that all team members are aware of all major decisions taken by the organisation, regardless of their roles and responsibilities. Including everyone promotes a healthy environment and helps teams become more comfortable with sharing ideas that could contribute to the organisation's learning process and management.
Health above all
The resources available to organisations supported by volunteers often come into play. That's why it's important to maintain a balance between wants and needs. Leaders must ensure teams have realistic expectations in terms of what needs to be accomplished. To do so, one simple option is to meet with each individual to ask them to list their tasks instead of assigning them. Why? To ensure each individual understood their job description and to get an idea of what may not have been taken into account by the supervisor. This meeting is also an opportunity to categorise realistic tasks and those that may be delegated.
The pressure an individual can put on himself or herself often goes unnoticed. That's why, if your deadlines are flexible, it's important to say out loud simple comments such as « We're only human, not robots » or « It's not the end of the world if you finish this later » to those who clearly need to hear them and to those who do need it but don't show it. Our society is just starting to recognise that neglecting people's mental and physical health is pervasive in the world of goods and services. The difference between « it's time to get to work » and « it's time to take a moment to breathe deeply as a group WITHOUT feeling guilty about it » is crucial for any organisation's well-being.
An amusing organisational system
One thing you should know about me is that I'm a very visual person. Therefore, visual aides can make a big difference in my performance level. I'm certain this is also the case for many employees in the sector. Taking the time to observe everyone's learning style and to create an efficient and amusing organisational system can make a difference when managing tasks. An amusing organisational system can help to create a friendly atmosphere in a sometimes tense environment where so much work needs to be done. And making room for humour is an easy way to keep employees and volunteers happy and excited! For example, you could get creative with white board paint in a meeting room and use this new white board for training or brainstorming sessions. You could also ring a small bell or play a specific song whenever a large task is completed. Incorporating small actions such as these into your organisational system should be part of the list of tasks for the the completion of a major project!
Make time for kudos
Cliché, right? Yet it is so important to celebrate your team's accomplishments.
I also believe it is important that a team congratulate its supervisors and take a moment to recognise their efficient leadership. Supervisors are often called upon to thank others (e.g. National Volunteer Week) but thanking them is a good starting point towards more horizontal collaborations within the organisation. We all deserve to be recognised.
So many other things help to prevent exhaustion in those who work in the volunteer sector. Do you use creative practices that foster an environment in which your volunteer sector employees and volunteers thrive? Share your story with us on Facebook and Twitter!
Thank you to the various organisations that work with Volunteer Canada and my team, Alison Stevens, Elizabeth Dove, Eric Shirley, Martha Aynalem, Kathy Magee, Deborah Pike, Paula Speevak, Katrielle Ethier, and Karine Diedrich for inspiring me to write this blog.