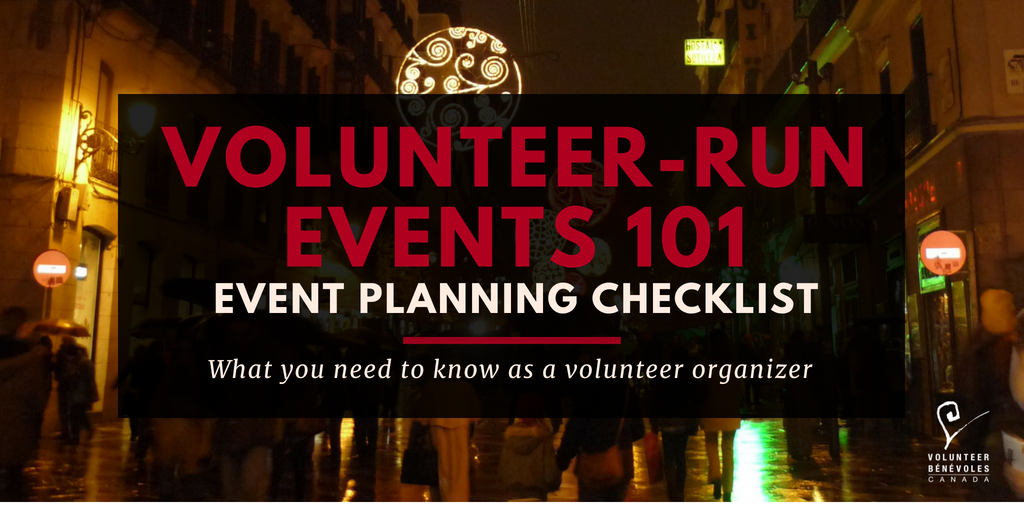 Read Time:
7 Minute, 30 Second
Regardless of the nature of the event you are planning, there are always procedures, permits and risks an organizer must consider. If you're not a professional event planner, nor a member of a formal organization, it's not always clear as a volunteer what responsibilities you hold when hosting a public event.
Have you considered what you would do and the implications if you had to cancel your event or someone injured themselves?
But, you're doing this out of the goodness of your heart. What are the odds of something happening? And even if something does happen, you're a volunteer! Surely, you're not responsible… Right?
In fact, as the person or group responsible for organizing the event it is your responsibility; it's your job to make sure that you have minimized any risk and that you have adequate coverage in case something does happen.
How do you know what risks to plan for?
That's where we come in! We made an event planning checklist that provides the main elements volunteers need to know when planning a public event of any kind. This list isn't exhaustive but, it's a good starting point for you and your planning committee.
Pre-Event
Contact any groups, companies, agencies or governmental bodies that have any direct or indirect involvement in the event so you are aware of any regulations or requirements they have and so you can communicate your needs to them.
On-Site
Parking: Determine any cost associated with parking, the parking location and any capacity limitations.
Signage: Ensure you have clear and adequate signage so your guests know where to go.
Registration Area: If your event requires on-site registration, establish where this takes place and what the process will be.
Admission: Is the admission regulated in any way, or is the event open for all to come and go as they please?
Tickets & Price: Determine the cost to attend. Will there be a ticket system?
Theme & Décor: The event's look and feel.
Logistics
Floorplan: Will you have tables? Assigned seating? Do you have enough chairs for your guests? Where will they be and is there enough room for all the attendees? If you do not plan on having chairs, consider what kind of accommodations you will offer to attendees who may have mobility limitations.
Music (SOCAN Fees): Will you be playing music? What are the applicable SOCAN fees for your event, if any? Are these fees already included in your venue cost?
Audio-Visual Requirements: Know your technical needs regarding a sound system, lights, projection, microphones, etc. If you don't have this expertise, seek it out.
Extension Cords: In our experience, you will likely need at least one extension cord during your event. As the Boy Scouts famously say: Be Prepared!
Linens: Table cloths, napkins or chair covers.
Master of Ceremony: A designated person responsible to guide your audience through the event is helpful to keep your guests engaged, informed and at ease.
Entertainment: What are you offering your guests as entertainment?
Activities Schedule: This can be as flexible or precise as you need it to be. Having an established timeline and order of activities ensures guests, volunteers and organizers are aware of what is happening and when.
Volunteer Management: Even as a volunteer yourself, effective volunteer management is crucial to ensure your fellow volunteers are set up for success.
Position Description: Map out the requirements and expectations for each volunteer role you will need to fill. This allows any volunteer supervisors, coordinators and volunteers to understand their tasks and contribution to the event. It also allows you to foresee any gaps or redundancies in responsibilities.
Screening: Will you serve vulnerable peoples with your event? Do your volunteers require police checks? Do your volunteers have skills or interests that are best suited for certain tasks? You can learn more about screening in the Screening Handbook.
Orientation: Where, when and how will you provide your volunteers with relevant event information and guidelines ahead of the event?
Schedule: Establish a schedule so your volunteers know where to be and when.
Meals: Is your event taking place during meal time, or will shifts last more than 4 hours? Consider how volunteers will eat, if you are providing their food, if they are bringing their own or if they will purchase their food on-site.
Recognition: What kinds of recognition will you offer your volunteers before, during and after the event? Learn more about effective volunteer recognition here.
Required Permits:
The following permits/contracts/certificates may be required for your event:

Rental Contract; Park Permit; Road Closure Permit; Liquor License; Fire or Fireworks Permits; Inspections (Electrical, Fire Safety, Food, etc.)
A Vendor Permit may be required if you plan on selling goods or services as part of your event. Contact your municipality or appropriate governmental body for details.

Note that some of these permits can take up to several weeks to process. Be sure to apply with enough time to receive your permit several days/weeks before your event.
Risk Management:
Ramps / Stairs / Handrails: What are the risks of a fall? Is your event accessible to people with limited mobility? What accommodations are available to them?
Adequate Time: Plan for enough time between activities, especially if your guests will be travelling from one area to another to avoid causing a traffic jam of people.
Space between tables: Make sure servers holding trays and people with mobility aids (ex: crutches, walker, wheelchair, etc.) have adequate room to circulate between tables and around the room.
Fireworks & Bonfires: Follow local burn guidelines on the day of the event, monitor the weather conditions and wind and, ensure only adequately trained volunteers or contractors are operating fireworks or managing the bonfire.
Serving Liquor: Ensure all volunteers / servers serving alcoholised beverages are appropriately licensed (if required by law). Understand your mandated responsibilities and the applicable laws as a host selling alcohol.
Emergency Plan: Does your venue have an emergency plan? What happens in case of extreme weather? What procedures should your volunteers follow and what guidelines will be communicated to guests?
Insurance Needs: Things to consider from an insurance coverage perspective. It's important to have insurance in place ahead of time, however you can also purchase it right up until the day of the event.
Venue Required Liability Limit: Most venues will require you to have event insurance in place, including a specific limit of liability. This may differ if your event is at a private venue or a public event. Typically, a venue will require a liability limit of $2,000,000.
Venue Named Under your Policy: Does the venue need to be provided with a certificate of insurance naming them as an additional insured under your policy in the event of a loss?
Cancellation Insurance: This will protect you in case of unforeseen situations such as inclement weather, if a venue is deemed unusable, or if something else requires you to cancel an event. This coverage can help you recover many of the costs and deposits already paid.
Waiver of Subrogation: This prevents your insurance company from recovering any funds from the venue if the claim was due to their negligence (an additional premium may apply).
Liquor Liability Insurance: This is sometimes necessary, especially if your event is taking place in a venue in which the bartenders are not covered. Liquor liability covers arising from causing or contributing to the intoxication of a person; the accidental furnishing of alcoholic beverages to a person under the legal drinking age or under the influence of alcohol, or any statute, ordinance, or regulation relating to the sale, gift, distribution, or use of alcoholic beverages.
Each event is different. Not everything on this checklist will apply to every event, and this checklist does not include every consideration needed for each event. What this checklist does provide, is a framework to start thinking about your event planning process in greater depth and with more awareness of the kinds of risks you need to manage. Happy Planning!
Volunteer Canada members have exclusive access to leading event insurance through BMS and the Under Our Wing Insurance Program. Contact a Broker today to discuss coverage options best suited for your event. You will need to provide them with the specific details, such as the number of attendees, time and date. The policy covers the organization that takes out the policy and all parties involved in the event (venue, caterer, event planner, etc.). Event insurance also provides general liability coverage for specific events. Additional coverage can also be purchased for such things as event cancellation and liquor liability.
If you have any questions, or to apply for cover – contact BMS on 1-844-294-2715 or email [email protected]
You can also find out more information at www.underourwing.bmsgroup.com