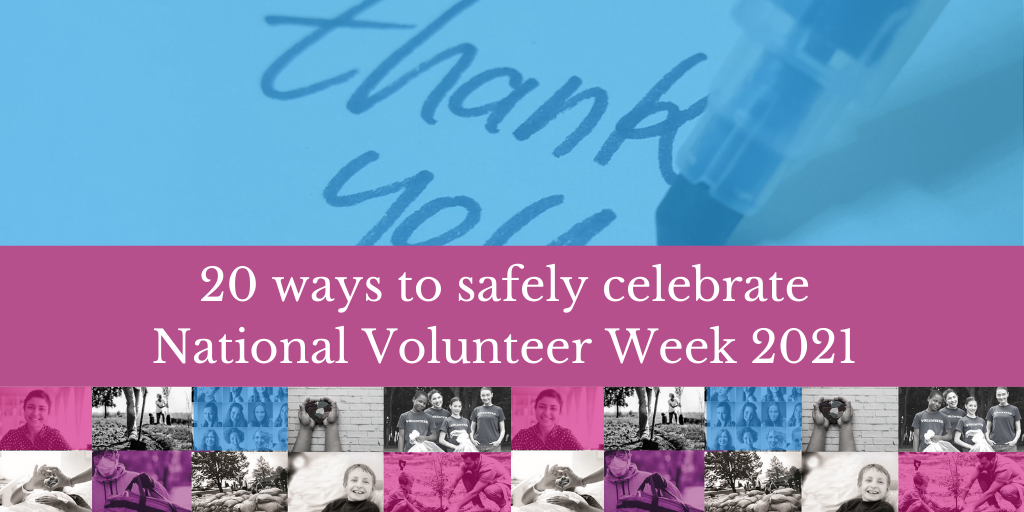 Read Time:
5 Minute, 13 Second
Remember the sharp pivot to virtual recognition in 2020? Leaders of volunteers, employers, organizations and communities are to be commended for their creativity and commitment to appreciating volunteers in such a rapidly changing environment.
What did we learn? What was successful? Was it a challenge to show appreciation virtually?
The pandemic has affected every facet of life; National Volunteer Week is no exception. We know from research that volunteers want to know the impact of their contributions. This feedback on meaningful recognition tells us that appreciation means different things to different people; recognition needs to be ongoing and unique to the individual.
Does that need to be in person? Through a large-scale event? Our ongoing reality of safety and physical distancing challenges us to improvise, be nimble and explore new ways to celebrate the efforts of volunteers.
Could we have imagined we would be focusing on virtual volunteer recognition again one year later? A challenge to embrace as a shift in paradigm had already been ascending. The one-size fits all, large scale, do it and done has been done and gone.
#VolunteersBringChange and with change comes opportunity. A new perspective, a new practice, a new pursuit for assessing and altering volunteer recognition now and in the future.
This past year has provided the tool to break the mould of past practice and provide the shape shifting clay to create something new. Perhaps over the past year your organization has had opportunity for in-depth conversations, focus groups and surveys. What did that information tell you? Use that data to shape your approach for #IYVplus20 and beyond.
There are many ways communities can recognize volunteers during National Volunteer Week, and all year round, while practicing safe health measures. As we seize the opportunity to shift our paradigms on meaningful volunteer engagement roles, practices and recognition, we can embrace change, just as #VolunteersBringChange, as we build and strengthen engagement.
This year's theme took inspiration from National Volunteer Week 2001, the International Year of Volunteers. As we celebrate that 20th anniversary here are 20 ways to celebrate for 20 years, to inspire your #NVW2021 activities in a safe and meaningful way:
Access the NVW 2021 Campaign Kit and join in the social media celebrations as we celebrate "The Power of One, The Value of Many".  Amplify the important work of your volunteers by bringing others into the conversation! Tag one, tag many!
An individual phone call. Simple. Meaningful. From you, from your organization, from your Board of Directors or a combination. On an old rotary phone or the newest smart phone, the message is the same – we have time for you.
A video message. Yes! A message from yourself or your Board President. Have fun with it; create a pre-recorded talk show that interviews and tells the story of volunteer impact.
Take that concept and go live! Facebook live – Trivia Tuesday or use the video screen format and devise your own Hollywood Squares!
Zoom bomb surprise! Invite volunteers to a video session and have a surprise guest(s). Invite a client, participant or guest to join in to share words of appreciation and engage with volunteers. That connection is mutually benefitting.
Host a weeklong speaker series: Monday Magic with a local magician, Tales on Tuesday with a storyteller or one of your own participants or team members, Karaoke and Kicks with music and exercise!
Send a card. An e-card or a handwritten card by mail. Take the time to write a message specific to the volunteer, their role and the impact they have had.
Video fatigue alive and growing? Consider these ideas that could be mailed, delivered by surprise drop off or physically distanced pick up:

Write a handwritten reference letter
Gift cards/certificates that support local; win – win – win!
Create buttons showing volunteer smiles
'Hands down, you are the best around' with hand sanitizer
'We can't mask it; we appreciate you' along with a new 3-ply mask from Volunteer Canada's E-Store

Virtual book. Create a simple story with photos of volunteers and share on a virtual video call or make into a mini-movie. Creative writing a skill? Try writing a poem or spin off of a known story i.e. Twas the night before National Volunteer Week…
Book club! Choose a book to read; host your book club meeting during NVW
Create or book online learning opportunities.
Create a #Hashtag for volunteers to follow along. Devise clues that can be found to win a prize!
Send 'em snaps. Snapchat messages, Tik Tok videos, Instagram direct messages.
Invite volunteers to submit a drawing, painting and combine into a mosaic for your website or an organizational wall hanging. Show the pride your organization has for volunteers.
Create a contest. Invite volunteers to submit poems, stories and songs. Voting by clients, participants, guests or organization.
House Party Movie Night. Volunteers receive a movie snack pack and watch a movie together. Connect afterwards to talk about the favourite parts.
Awards. Virtual presentation of awards for traditional categories – years of service, monumental hours for those who appreciate that and/or have some fun with it! Award volunteers with specific or known attributes i.e. volunteer with the most steps; walked XX kilometres with rescue dogs or volunteer who has read XX of books to children.
Scavenger hunt! In the neighbourhood, town or city. Provide clues within a walking loop to encourage exercise. Find the clues, answer the question, win a prize.
Well-being Webinars. Recognition says thank you. It also means recognizing needs. This past year may have been isolating for some volunteers. Check in on their well-being.
#VolunteersBringChange. How could you use this theme in the above ideas?

Background music for karaoke, video messages and video parties;

Sam Cooke – A Change Is Gonna Come
David Bowie – Changes
John Mayer – Waiting on the world to change
Sheryl Crow – A Change Would Do You Good
Eric Clapton – Change the World

Feedback sessions – how volunteers would like to bring change to current practices or changes to their roles?
However you choose to celebrate, link recognition to the mission, vision and values of your organization. Help volunteers understand that their efforts have a direct impact and that they are valued; not just during National Volunteer Week but all year through.