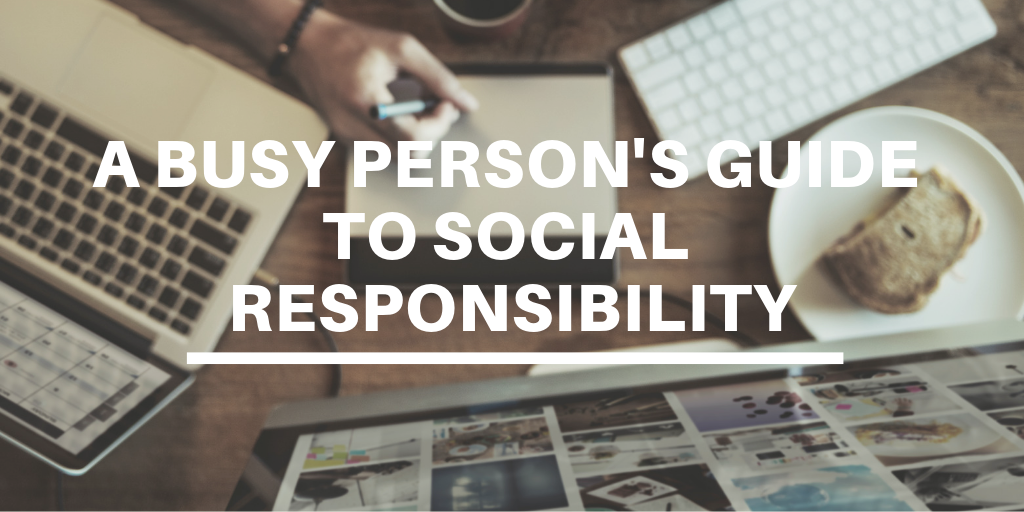 Read Time:
4 Minute, 12 Second
We all want to do more, but with increased demands on our time, it can be hard to find the time to get involved outside of work, school and family.
Everyone can make conscious choices in their daily lives to live ethically and contribute to their community. Whether it's how you choose to give your money or time to a cause, how you invest your money or how you get around, those every day choices are your a reflection of your Individual Social Responsibility. The best part, though perhaps also the most daunting, is that it is individual. It's shaped by your values, your life and your priorities, which also means that it can sometimes be hard to know what you can do to be a good citizen.
Here's a list of ideas of low-time commitment actions you can take to be socially responsible:
Tiny Time Commitment:
Pick up a piece of litter when out for a walk
If you're walking the dog, or walking home from work, bring a bag with you and pick up any trash you find.
Share a petition or fundraising campaign with your networks
Spreading the word helps turn up the volume for the cause you care about.
Buy imperfect produce
Your stomach has no eyes – billions of pounds of fruits and vegetables go to waste every year because they don't meet "cosmetic" standards. Help reduce food waste by eating tasty, funky shaped produce.
Carry a reusable water bottle and utensils with you
Single use plastics cause a lot of damage to our environment, reduce your impact.
Small Time Commitment:
Organize a clothing swap with your friends
Shop in each others' closets and reduce the amount of new clothing you buy.
Shovel a neighbour's driveway
You're out there shoveling regardless – why not make someone's day? And you get some exercise too but remember to lift with your knees!
Make dinner for a friend or family member recovering from an illness or surgery
Recovery from any illness or a surgery can be hard, both physically and mentally. Making a loved one dinner and spending time with someone in recovery (if they have the energy) is a tangible way to support them.
Put up posters for a local event
Get some posters for an event or a non-profit you love and bring them with you when you're out. You can post them to spread the word while you're out running errands, or wherever there's a community billboard (with permission).
Small Ongoing Commitment
Be a pen pal
A thoughtful letter and a genuine connection can make a world of difference to someone feeling isolated.
Do some data entry or proofreading from home for a local non-profit
Some administrative tasks can be time consuming for non-profit staff, but crucial to their work. See if a local organization needs support with work that is easy for you to complete on your home computer for an hour or two a week!
Buy local products and foods
Local produce and goods don't travel as far to get to your home ( using less fossil fuels) and you get to support the businesses and entrepreneurs in your community.
Sign up for an app to do some good:

Be my eyes: Help someone with vision loss with simple daily tasks like checking an expiry date through your smartphone.

Round Up to Give: Round up every purchase you make to the nearest dollar and donate the change to a charity of your choice.

Tarjimly: Speak multiple languages? Give refugees on demand language access by providing simple translations.
One-time Commitment
Get involved with a one-day community event
Know when you have your next day off? Find an event on that day and reach out to volunteer. Whether it's by helping out at registration, decorating or perhaps even running an activity, you'll be glad you did it!
Craft decorations for a fundraiser from home with friends
Love crafting? Reach out to a local group to see if they need decorations for an upcoming fundraiser or event. You can make them at home while watching TV, or with a group of friends!
Volunteer for set up and take down of an event
Set up and take down shifts can be hard to fill, and you get to participate even if you can't attend the event itself.
Chaperone a field trip or tournament weekend
Support growing minds and have fun learning and cheering them on. They might need more than one chaperone – bring a friend in on the fun!
Attend a local art show to support local artists
They are great places to find unique and original gift ideas or some new home decor, all while supporting the local arts community.
Looking for other ideas? Learn more about microvolunteering!
Feeling inspired and want to get involved in your community? Reach out to your local volunteer centre!