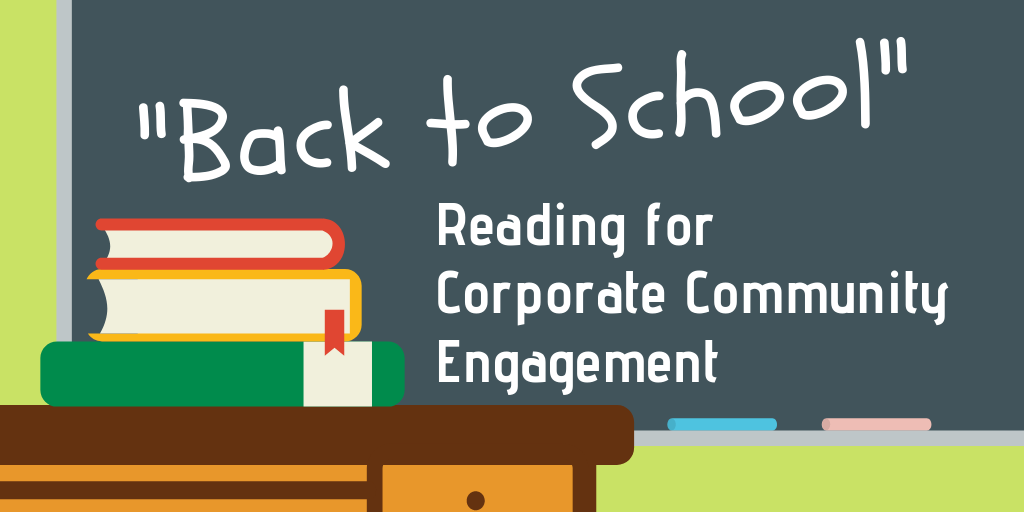 Read Time:
4 Minute, 3 Second
Labour Day has come and gone. Remember the days when that used to mean it was time to hit the books? For a lot of corporate community engagement professionals, the Fall now represents intense campaigns to encourage your employees to serve and give. Just because you aren't sitting in a classroom this Fall doesn't mean you can't brush up on some of the latest research and practices. Find some time between your Fall activities to read up and feed your mind.
Data that supports your budget submission
Back up your budget with these studies, packed with Canadian data.
The Business Case for Giving Back (Volunteer Canada, Great Place to Work Canada. 2019.) This report summarizes key findings from the largest survey of Canadian employees to date on the connection between their levels of engagement with their workplace and their employer's commitments to community. Great examples and tips too!
Edelman 2019 Trust Barometer (Edelman. 2019) The world's most robust exploration of trust in business, government, NGOs and media. The 2019 report states that the most trusted entity is "My Employer" and outlines what employers must do to earn that trust, touching on contributions to community and purpose.
Study linking corporate "goodness" programs to employee retention (Benevity, 2018.) Amongst Benevity clients, turnover is reduced by 57 percent for employees actively engaged in company giving and volunteering efforts.
Employer-Supported Volunteerism: The Top 5 Methods at Canadian Companies (Imagine Canada. 2018.) With insights from 'Corporate Giving in a Changing Canada' (Community Investment Report).
The Value Proposition for Employer-Supported Volunteering (Volunteer Canada, 2018.) Some of our favorite statistics from around the world that prove the business value of supporting your employees to share their time, talent and treasure.
Research reports released this Summer
In case you didn't get to these while at the beach.
The New Business Imperative: Employees turn environmental action into a workplace necessity (Earthshare. 2019) This survey of Fortune 1000 employees suggests companies that provide employees opportunity to impact the environment reap rewards including recruitment, engagement, productivity and retention.
Community Involvement Study 2019 (Boston College Centre for Corporate Citizenship. 2019.) Insights into the volunteering and giving programs of 252 mostly-US medium and large companies.
Books
Take a deep dive into the complexities of social change and the role of business.
New Power (Jeremy Heimans, Henry Timms. 2018.) Everyone is talking about this exploration on spreading ideas, building movements and leaping ahead in our chaotic, connected age.
Winners Take All: The Elite Charade of Changing the World (Anand Giridharadas. 2018) A challenging must-read. The New York Times bestselling, groundbreaking investigation of how the global elite's efforts to "change the world" preserve the status quo and obscure their role in causing the problems they later seek to solve.
Social Movements for Good: How Companies and Causes Create Viral Change (Derrick Feldmann. 2016) A guidebook for driving change, by taking advantage of the social "currency" that makes movements go viral.
Audiofiles
Learn on your commute! Download these free recordings from past Volunteer Canada ChangeMakers@Work webinars.
CSR and Human Resources Collaboration for Employee Engagement (download), recorded in March 2019, a discussion moderated by Paula Speevak with Valerie Chort and Deenah Patel from RBC, and Norma Kraay and Sarah Chapman from Deloitte Canada.
Pro Bono and Skills Based Volunteering: What's New, What's Working (download) presented in September 2018 by LBG & Associates, Adobe and iSisters.
Blogs to follow
Discover new perspectives and explore relevant issues in a bite-sized format by following these blogs.
Volunteer Vibe – Volunteer Canada's blog with a stream specifically for Corporate Citizenship. Sign up today to receive these blogs right to your inbox!
Don't spit out your pumpkin spice latte!
At Volunteer Canada, we love the comic stylings of non-profit director Vu Le who riffs on the challenges of non-profits, often touching on their challenges with corporate relationships.  Enjoy his irreverent take on funding relations in this video. If you like this video, you can read more about his insights (and unicorns) at nonprofitaf.com/
Plan your conference travel
Tired of reading and want to learn in conversation? Our friends at Realized Worth generously share their running list of North American and Global CSR events here.
Are there some favourite reads we've missed? Please write us so we can add them to our Holiday Reading list in December!