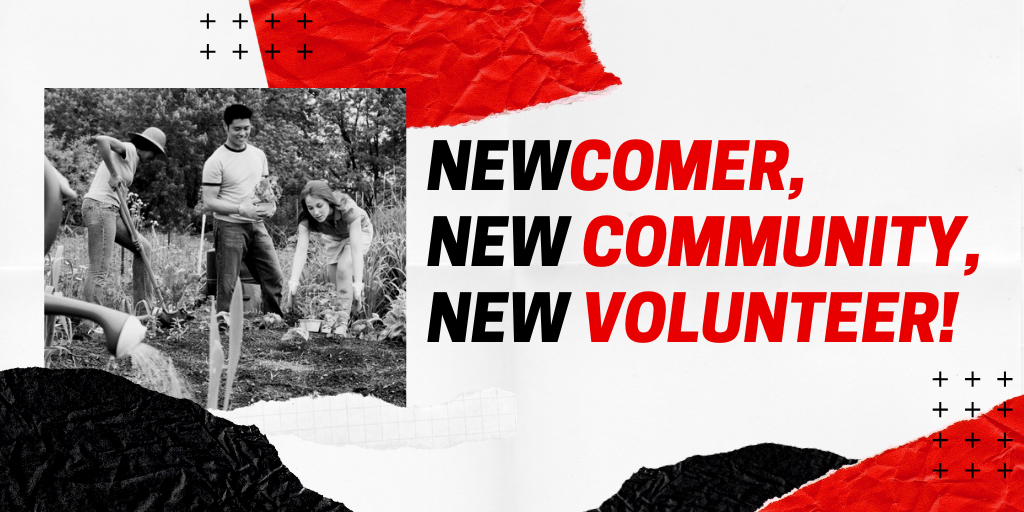 Read Time:
5 Minute, 27 Second
Volunteering is a great way for newcomers to get to know their community, while learning about Canadian culture, practicing or learning skills and meeting new people. Just like engaging volunteers from other cultures, there are factors unique to engaging recent immigrants. For example, they might be unfamiliar with Canadian social norms or face language barriers. And yet, volunteering is often a valuable integration tool. For many, it's also a steppingstone towards employment. This year, I had the pleasure to meet Debbi from the Volunteer Centre of Southeastern New Brunswick who (among other things) helps newcomers to find volunteer opportunities in Moncton.
Debbi, the team at the volunteer centre and some of the newcomer volunteers in Moncton created a video to help newcomers understand the role of volunteering in Canadian communities. In fact, the project was initiated by volunteers and they were instrumental in its creation! The video is available in Arabic, Filipino, Korean, Mandarin and Russian. Why in those languages? According to the local immigration officer in Moncton, those are the five most common languages spoken by immigrants coming to the area.
It is our belief that by reaching out to newcomers in their own language and by actively engaging them in the community where they live and work, that they will not only gain better language skills and awareness of how our communities work, but ultimately feel more and more that New Brunswick is their new home.

Debbi Leblanc, Volunteer Centre of Southeastern New Brunswick
The video allowed volunteers with lived experience of immigration and integration through volunteering to share their stories with other newcomers. By using their words and their language, it bridges the gap between the culture they know and the one that now surrounds them to inspire newcomers to get involved.
How can your organization make volunteering more accessible for newcomers?
Debbi has some tips for you to consider during the application and intake steps:
Create a simplified volunteer application for newcomers.
It should contain the core information you need but with less details. A complex intake form can feel overwhelming for people who are not familiar with our processes.
See the sample form by the Volunteer Centre of Southeastern New Brunswick
Arrange a meeting.
Take the time to meet with the newcomer face to face. It acts as an informal interview (the word "interview" can be intimidating for newcomers). The meeting usually uncovers many skills and expertise that might not be listed on their application form!
Debbi noted that while many are looking to practice either French or English or to use their skills while they look for employment, the majority of those who decide to volunteer also want to fill a need in the community. To help them, here are some of her approaches:
Capture as much information as possible from the Newcomer about their goals, and what they hope to achieve with their volunteer engagement.
This helps direct volunteers to opportunities that build on their strengths, interests and goals.
Help newcomers develop their volunteer profile that outlines the skills and experiences they want to share and send it to the organization where the volunteer will or would like to volunteer.
Another common hurdle to newcomer involvement, is screening and more specifically, background checks. It can be hard to know how to appropriately screen newcomers who want to volunteer, especially if they will engage with a vulnerable group. There might be rigid organizational policies or requirements that make it difficult for newcomers to volunteer. We don't want to skip those verifications though; we must do our due diligence to ensure the safety of those we serve. Background and reference checks should not be used on their own to assess a volunteer's suitability for a role, they should be used in combination with other screening tools.
MOSAIC, a settlement organization in British Columbia, developed Capturing the Talents of Newcomer Volunteers: A Guide to Developing Effective, Culturally Inclusive Volunteer Programs which goes into detail on all aspects of engaging with newcomer volunteers. They caution that organizations cannot expect recent immigrants to provide a criminal record check from before their arrival in Canada. Here are some of the tips and alternatives they provide:
Be sure to explain to the newcomer the need for, and the process of, criminal record checks, health and reference checks.
Provide letters of request for health checks and criminal record checks that newcomers can take to the doctor and the police respectively.
Accept non-traditional references such as a landlord, an ESL teacher, or a settlement worker.
It's important to note that Permanent Residents and other immigrants are thoroughly screened for criminal inadmissibility before they come to Canada. There may be alternative verifications that a newcomer can provide instead of a traditional criminal record check. Ask them to contact their immigration officer or settlement agency to see if there is an available alternative or offer to reach out to them with the newcomer's permission.
We should always do our best to match a volunteer to an appropriate role and provide newcomers with equivalent support provided to other volunteers. That might mean assigning a mentor or a "buddy" for a skilled volunteer that needs support to develop their language skills or providing training for a volunteer with the necessary language skills but who lacks another skill needed for the role.
Sometimes, a volunteer isn't a good match for your organization, or you can't accept them for other reasons despite your best efforts to accommodate their situation – and that's okay. Avoid simply refusing the newcomer as a volunteer. Rather, refer them to another organization in the community where they could volunteer or to a volunteer centre that can help them in their search. If possible, connect them with another person that can support them. Being left to their own devices to find another opportunity can leave a newcomer feeling overwhelmed or set aside. Whereas feeling supported and valued as a volunteer (even if it's for another organization) empowers them to keep looking for a role that will fit their needs and help their community.
To fulfil our missions, we need to meet people where they are so we can move forward together. For our organizations to reflect the communities we serve, volunteer programs must do the same. Newcomers have a wealth of knowledge and experience they want to contribute to their new home; we just need to give them the opportunity to share them with us.