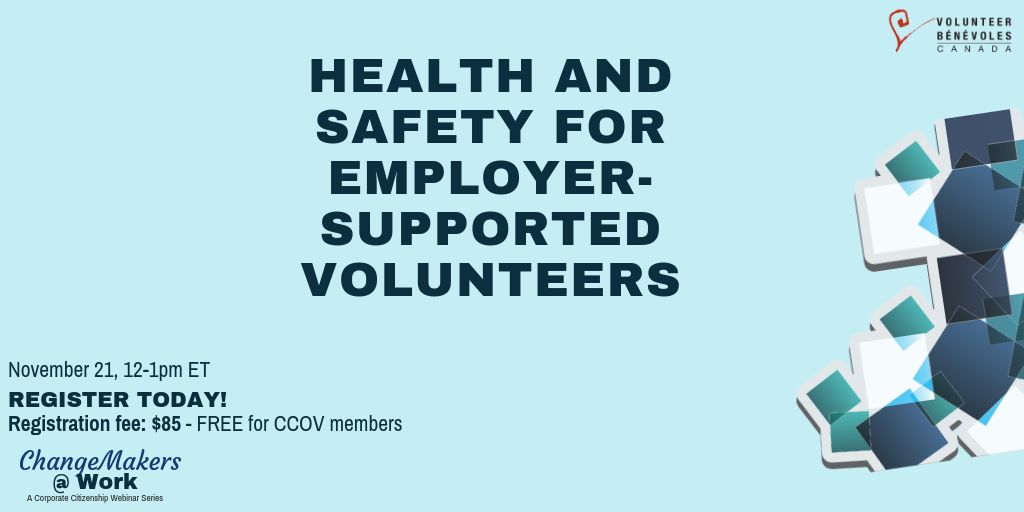 Read Time:
2 Minute, 9 Second
Many employed Canadians volunteer their time to make a positive change in communities across Canada. The number of companies that support their employees' volunteer efforts grows each year, with more than half of employed volunteers receiving some sort of formal support from their employer.
Whether employees' volunteer efforts are led by the employees themselves or by the company, and whether the activities take place on company property or out in the community, it's important for the company to ensure the health and safety of its employees.
Create a safety-focused culture
Show that your company cares about the welfare of those who participate in its employer-supported volunteer activities. This includes employees, their family members, staff at your non-profit partner and community members. Develop policies and procedures that mitigate risk, ensure safety and allow for enjoyable volunteer experiences.
Assess the risks
Health and safety isn't just about avoiding accidents. Identify the risks and hazards of each volunteer activity and make a plan for how to manage them. Work with your non-profit partner, as their staff will know the volunteer tasks and environment best. They will be able to recommend which skills and experiences may be needed for certain roles, and help put measures in place to minimize or eliminate risks and hazards.
Educate your employees
Everyone has a role to play in health and safety. Educate your employees about your policies, procedures and plans for health and safety. Let them know about any risks so they can make an informed decision about participation. Employees have a responsibility for their own safety, so train them on any health and safety requirements.
Learn about the legal and insurance issues
Companies are responsible for keeping their employees safe. Find out what your company can be liable for and confirm that your insurance policy covers employee volunteering.
Join us for a one-hour webinar on November 21 at noon (EST) to learn about the main legal and insurance issues surrounding employer-supported volunteering.
Paula Speevak, President and CEO of Volunteer Canada, Alison O'Rourke, Director of BMS Canada Risk Services, and Megan Marshall, Senior Community Programs Advisor at Cenovus, will answer some key questions:
What kind of insurance should non-profit partners have?
What kind of insurance do companies need?
What processes and tools should companies have in place?
Why is volunteer screening important?
What sort of screening policies should companies have?
Register for ChangeMakers@Work, part of our webinar series on corporate citizenship. Registration is free for members of Volunteer Canada'sCorporate Council on Volunteering.